Another Attempt By Desperate Sen. Magnus Abe To "crown" Himself Governor Foiled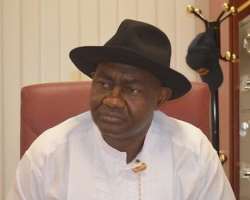 Today, Wednesday November 15, 2018, a suit dated 8th November and filed 9thNovember in which a grievously desperate attempt by Senator Magnus Abe and his co-travellers to reap from where they did not sow hit the rock as a Federal High Court sitting in Port Harcourt turned down the originating summons filed by them seeking the High Court to declare them rightful candidates of the APC in Rivers State. They also sought an Order of the Court to compel the Independent National Electoral Commission (INEC) to accept and publish their names as candidates of the All Progressives Congress, APC, for Rivers State.
When the matter was mentioned, H A. Bello Esq. appeared for the plaintiffs, while E.N. Ebete Esq. appeared for APC. Plaintiff's counsel objected to the appearance of the counsel for APC. The court overruled him. The plaintiff's counsel took his motion ex parte.
E.N. Ebete in response prayed the court to advert his mind to the fact that the ex parte application was such that cannot be taken in the absence of the Respondents. The court in its ruling held that the said ex parte motion could not be heard in the absence of the Respondents in that it sought to abridge the time within which Respondents could respond to the originating processes as that would breach Respondents' right to fair hearing.
Consequently, the court ordered that the Respondents be put on notice. Case was adjourned to the 20th of November, 2018 for the hearing of the motion for accelerated hearing.
It would be recalled that somehow Rivers APC lawyers had been tipped off of what was supposed to be a secretly filed matter expected to be heard ex parte and Order handed down to deal a surprise sucker punch to the APC by the renegade faction led by Sen. Magnus Abe. The unexpected appearance of the APC Counsel in court averted the plot. Consequently, the desperate plans by Sen. Magnus Abe and his cohorts now lay in ruins. It was planned such that INEC would have been compelled to use them to replace authentic candidates already accepted and published for the 2019 elections.
Chief Chidi Lloyd, PhD
DG, Tonye Cole Campaign Organisation