NDLEA intercepts 340m tramadol tablets in 12 containers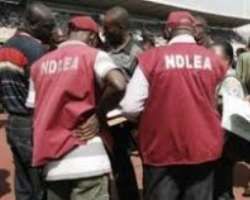 The National Drug Law Enforcement Agency (NDLEA) said Thursday it had intercepted  a total of 340 million banned drug, tramadol tablets,  in 12 containers in Apapa Sea Ports, Lagos.
The Chairman of the agency, retired Col. Muhammad Mustapha Abdallah, said Thursday in Abuja that the seizures were achieved with the collaboration of the Nigeria Customs Service (NCS).
A spokesman of the NDLEA, Jonah Achema, said in a statement quoting the chairman that the tablets which were in various dosages ranging from 120 to 250 milligrams were recovered from 12 containers in an on-going search of containers at the port.
Tramadol is a psychotropic drug and opiate derivative, which was recently banned by the Federal Government
"These containers which have been on the watch-list of NDLEA since November 2017 were brought to the attention of the NCS, to be positioned for search based on the agency's (NDLEA) reasonable suspicion of the containers containing tramadol. The Nigeria Customs Service yesterday (Thursday) dropped only 28 of the 62 containers for search where 12 of the containers have been found to contain Tramadol. The search is still on-going," the statement said
The NDLEA Chairman, Col. Muhammad Abdallah (retd), noted that the importation of Tramadol into the country was for illicit purposes, adding that the nation did not need the high volume of the opiate being brought in.
"It is doubtful that this influx of Tramadol is for legitimate uses; Tramadol, which is a derivative of opiate, is for post-surgery application; but even if everybody in Nigeria undergoes surgery every year, we do not need the quantity that enters our country. It only suggests its diversion for illicit use," he stated.