Tragedy: Monarch's bodyguard shoots son of ex Osun votary maid dead inside palace as confusion trails Oba's reign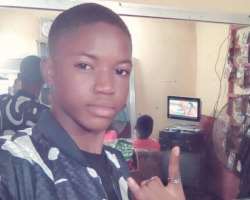 Confusion and apprehension have continued to trail the reign of Oba Jimoh Olanipekun as the Ataoja of Osogbo and the latest is the killing of a 15-year-old boy, Imole, son of ex Osun votary maid who was shot dead by one Abubakar Suleimon who is Olanipekun's bodyguard.
The sad incident happened on Monday when Olanipekun's bodyguard asked the boy if he had a bulletproof charm and the Imole said no but the bodyguard insisted that the boy was fortified with a bulletproof charm and shot him to confirm if he had the charm or not.
The boy was rushed to hospital by the Osun State Ambulance Service paramedics but Imole died eventually and his body was deposited in a morgue by police.
The Commissioner of Police in the state, Mr Fimihan Adeoye confirmed the incident. The CP confirmed that the boy died and that the palace guard that shot the boy has been arrested.
As a result of the incident, Osogbo was thrown into confusion as people were mourning little Imole that was sent to early grave.
Meanwhile, many people have attributed the incident to the consequence of the confusion around the circumstances surrounding the reign of Olanipekun who was said to have been imposed on the people of Osogbo by former governor Olagunsoye Oyinlola.
The Osogbo Royal families took Olanipekun to court and the Osun State High Court presided over by Justice Yinka Aderibigbe ordered the removed Olanipekun as the Ataoja.
In the same vein, Justice Jide Falola of the Osun State High Court while presiding on the case also ordered the removal of Olanipekun and warned him not to parade himself as Ataoja anymore.
Olanipekun appealed against the judgement of the Osun State High Court at the Appeal Court in Akure Ondo State capital.
He has since been involved in different controversies ranging from giving wrong individuals chieftaincy tittles and sacking chieftaincy title holders.
The last was the removal of the man overseeing the Osun Osogbo shrine, Baba Adigun Olosun and the appointment of his in-law as the new person that would be overseeing the Osun shrine.
Olanipekun also sacked the woman in charge of the Osun shrine from where she resides in the palace and the confusion continued until the innocent boy was sent to early grave on Monday.