PDP insists Osinbajo's approval of N5.8bn NEMA funds is illegal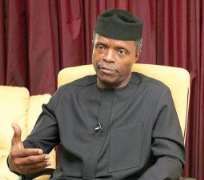 The Peoples Democratic Party (PDP) says the approval of N5.8 billion by Vice President Yemi Osinbajo for "emergency intervention of food security to the northeast" in June 2017, when he was acting president is illegal.
The National Publicity Secretary of the party, Mr Kola Ologbondiyan, stated this on Wednesday during an appearance on Channels Television's Sunrise Daily.
He said, "You cannot come around and say that because it was an emergency, you withdrew the sum of N5.8 billion without due process, you withdrew money from the Consolidated Revenue without taking it through the organs of the National Assembly, this is not a Banana Republic.
"The action of NEMA which is chaired by the Vice President contravenes the provisions of Section 82 and 84 of the Constitution. The act constituted an infraction of due process particulary on procurement and a loss on government revenue.
"These are basic issues. For instance, the Chairman of the Committee Honourable Ali Isa did say that there was no bidding for the contract. Yes, there is a section of the Procurement Act that states that in an emergency, the authorities in NEMA can act.
"But that particular act did not say that you can go and do contract without following procurement rules, that is not the extant rule."
Ologbondiyan, therefore, asked the Vice President to make himself available for questioning by a House of Representatives committee, saying that he ought to have known better as a Professor of Law.