Female Suicide Bomber Arrested In An Attempt To Detonate A Bomb In Borno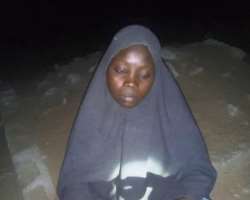 A 19-year-old girl, Shaidatu Adamu, has been arrested by troops of 251 Task Force Battalion, Maiduguri, Borno State while trying to detonate her suicide vest in the Gonikalachari area of the state.
Adamu, who said she is from Gwoza, told the army upon interrogation that she had been in the Sambisa Forest with the Boko Haram terrorists for three years revealing that she was sent out on Tuesday on a lonely mission.
According to the army, the troops from 47 Explosive Ordinance Device Battalion were invited to diffuse the explosives, while Adamu has been transferred to 7 Military Intelligence Brigade Maiduguri for further investigations.