World Orphanage Day: Dame Okowa Put Smiles On Orphans
… Promises To Reach Orphanages, 3750 Indigent Women In December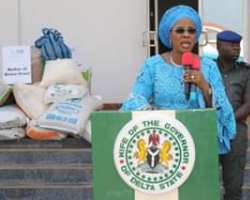 Wife of the Delta State governor and founder, 05 Initiative, Dame Edith Okowa, has in her charitable and benevolence manner lifted the burden of care givers (Orphanage homes) in the state by donating bags of rice, beans, garri, tubers of yam, palm and ground nut oil among other food items to aid the feeding of children under them.
In her address Monday, at the premises of 05 Initiative, Government House, Asaba, Dame Okowa, said: "millions of children have been orphaned, having lost their parents under various circumstances making them extremely vulnerable to the vices in society. These children who are entitled to complete and fulfilled lives, are homeless, naked and hungry".
While noting that this year's celebration calls for self-examination; she cautioned parents especially mothers to take good care of their wards and children living with them as their own children, "we have heard stories of how orphans are maltreated. It is not their choice to be orphans, life only threw a challenge at them", he advised.
She said for the past three years, her pet project, has taken the issue of 38 registered orphanages and three adopted families very seriously by providing their basic needs especially food, "this is part of our mission to feed the hungry and provide shelter for the homeless", she hinted.
She appreciated the activities of care givers in the state for creating the enabling environment, charging them not to relent on the "God given assignment", even as she urged them to yield themselves to the Spirit of God, "He will teach you what to do. Rebuke when necessary, love and reward them as at when due. I am convinced that you will surely be rewarded".
She said the programme was to create more awareness to enable people cultivate the attitude of giving especially to orphans as 41 orphanages homes benefited.
Meanwhile, the wife of the governor has disclosed that 150 indigent women drawn from each of the 25 local government councils and orphanages homes would be reached in December to enable them celebrate the season like others.
Earlier, the Director-General (DG), 05 Initiative, Mrs Kevwe Agas, welcomed gusts to the event and charged them to pay attention for what God has for them.
Also, Pastor Chuks Anizor, who took the scriptures from Ecclesiastics chapter 5:9, admonished the audience to give selflessly.
Speaking on behalf of the state chapter of the Association of Orphanage and Care Givers, Engr. Emma Olatu, who runs Children Revolutionary Orphanage, Irri, Isoko south local government area appreciated the governor's wife for coming to their assistance.
"Your impact in the lives of the less privilege can never be over emphasize. We have been praying and God answered our cry by sending you to us. Our children are in school today because you made it possible. Your advent has made it possible for us to access government house, you are a treasure of inestimable value to us", he said.