Wicked woman batters 4-year-old step daughter for no reason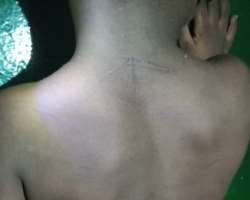 A pupil of Royal Peters International Academy in Mowe, Ogun State, Stephanie Dikeocha who lost her mother during childbirth was unjustifiably battered by her step mother, Jennifer Dikeocha at the weekend.
When the pupil got to school today, her teacher notice the marks on her and asked what caused the injury. The pupil narrated how her step mother beat her mercilessly at home at the weekend.
Before today, the teachers said they have noticed that the little girl was always reluctant to go home after closing hour and that the girl was in the habit of crying seriously whenever is time for her to go home.
The teacher said when the girl came to school this morning, she looked very sick and when she tried to feel her body temperature, the girl shouted in pain which prompted her to check her body and found lacerations all over the girl's body.
The teacher sent for the step mother and when questioned about the reason for beating and inflicting injury on the little girl, Jennifer has no reasonable answer to give.
The teacher reported the matter to the police immediately and the woman was arrested.
The Police Public Relations Officer for Ogun State Police Command, Mr Abimbila Oyeyemi confirmed the arrest of the woman.
In an interview with The Nigerian Voice, the Abia state born woman explained that the mother of the girl died while giving birth to her and that she got married to the father of the girl after the demise of his wife.
The commissioner of police in Ogun State, CP Ahmed Iliyasu ordered a thorough investigation into the case and prosecution of the suspect.