Juxtaposition Of Powerful Dramatic Influences Between Mr. Change During 2015 General Elections And Mr. Money In 2o18 Successive Elections In Nigeria.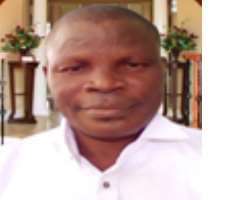 The powerful dramatic influences of Mr. Change and Mr. Continuity during 2015 general elections overwhelmingly arrested the attention of almost all the citizens of Nigeria. Undertheir great influences, majority of Nigerians started dancing excitedly, sweating profusely, matching and waving (of hands) admirably and surprisingly on almost all the streets and ways of the country. They in the course often caused traffic jams.
The sounds of their matching down the streets, footsteps on podiums and the luring waves of their flags were singing and echoing Change at Federal Level! Change at State Levelmelodiously with their arms fully raised assuredly.
Contrarily, all the incumbent governments assumed different political strategic dimension and slogan tagged 'Continuity' Oh! My people danced dogmatically to the tune and the irresistible lure of their sounds on whims and caprices. Truly, Nigerians whole heartedly endorsed Mr. Change and Mr. Continuity with expectation of landmark progress and phenomenal transformation of indispensable cardinal variables that usually make up enviable country soon, after the elections.
Almost all party sycophants and stalwarts were sent into sleepless nights and nightmares just by contrivance. Obviously, Nigerians witnessed unprecedented intoxicating campaigns and lobbies in the political history of Nigeria during the elections. Alas! My people could not sleep deeply, waiting eagerly for the days of the elections.
Consequently, they rushed to the polling stations for planting their political seeds, thereafter uncontrollably started salivating for meaningful dividends. Although the expected political goals were scored yet their dreams were shattered.
Ironically, some people invested their precious franchises with impunity for gratification of their desires for morsels or trifling amounts. Some were lured by gambit and gimmicks to become their stalwarts or sycophants on whims and caprices. Most of them ardently exploited their franchises for bailout from administrative confusion, incompetence and robust political compensations without minding the consequent bad multiplier effects which our land, Nigerians as a whole and the youth of this great country in particular are now experiencing.
These unprogressive crude political cultures have dragged the existence of our October 1, 1960 independence into a state of unprecedented hardship.That is why I always advocate for self-restructuring, positive political culture and real democracy.
Truly, with overwhelming uproars of Mr. Change that characterized 2015 general elections the expectation or anticipated hope of majority of citizens of this country was that Nigeria would be bailed out of most of the predicaments or hardships that are threatening or challenging her existence as soon as their expected government assumed the mantle of leadership. That is, the twelve cardinal or indispensable political elements that usually make up a peaceful democratic country; or an egalitarian society would be improving gradually or at increasing rate.
This analyst is of strong opinion that any progressive group should not allow any of the twelve cardinal elements that make a meaningful democratic government to deteriorate a pinch further as soon as such a government assumes the mantle of government or leadership.
Therefore, the songs that a noticeable change could not take place overnight are mere propaganda to dislodge the mentality of people. The uproar or agitation that the constitutionally stipulated four years term is not enough for a present government to solve Nigeria problems especially insecurity is very embarrassing, untenable and unacceptable to patriots and all genuine compatriots of this country.
I still reiterate it that the litmus test of Mr. Change and Mr. Continuity is that the two major political parties have turned the country into the state of continuous hunger, soaring prices of the staples and fuels, predominant unemployment, unprecedented devaluation of our currency, economic degeneration, lingering insecurity and payment of trifling amount for impermanent employment. These pathetic situations are now forcing Nigeria Labour Congress to be agitating for #30,000 minimum wages.
The payment of trifling amount is the bait that politicians use to trap the youth and the poor to misuse their precious franchises and become their followers with impunity. This is the high time Nigerians used their ingenuity to deliver themselves and their children from these politicians' traps.
It is obvious that the masses are perturbed. Mr. Change has failed to address problems of the masses and ensure security of their lives and properties. Any ground that one could adduce for this failure is nothing but shattered dreams of peace, prosperity, aspiration and expectation of the poor and the youth.
I reiterate it that any change which is at variance with the yearnings of the masses and that could not provide indispensable needs of the society is not only an unprogressive replacement but also very shameful to the reputation of their political analysts.
Furthermore, these political analysts are the people who spent days and nights selling the party to the masses and even to the rich who could not discern their gambit or contrivance. Their powerful bright arguments in media and write-ups before and during the 2015 general elections which were centred on selling their ideologies and their parties to the masses have produced gimmicks, gambit, and mere propaganda and misdirection Oh! May God save us from government that exhibits gross inability to conduct free and fear elections though clamouring for fighting corruptions to the whole world? What a sharp contrast?
It is clear without deception that if the change cannot take place over night it should be progressive, not retrogressive and at worst, remains as it is.
Judging from above, your political analytic extrapolation, forecasting, assumption and assurance have turned to mere political contrivance, stratagem, wrong directions and directives in all perspectives. Their assertiveness could be seen as soup that was grossly in short of at least, a pinch of salt prepared by political novices and sold to masses that were in state of hopeless impoverishment. I am aware that you are now running helter-skelter to redeem your political image. It would be a welcome step if it is not a strategic plan for political ploys because it is better late than never.
My averment could be supported by expectations, political perceptions or anticipations of some of our respectable leaders, political fathers and religious men and real pervading situations on ground as below:
Former Minister of Petroleum and Energy, Prof. Tamunoemi David-West, said that Nigerians should expect sharp drop in petrol price from current N87 to about N40 per litre, saying "the President-elect, Gen. Mohammed Buhari, will reduce the fuel pump price to N40 per litre"- Vanguard newspaper(April 14, 2015)
'Nigeria would be changed within one month' said assuredly by one of our reputable ex-presidents and fathers. These are men of proven experiences but whatever would be an outcome of any situation or operations majorly depends on handlers, actors or operators.
The key reasons extracted from the comment of one of our highly respected prophets of God and a world-wide Evangelist (retired)-The Nation (April 26, 2015) are stated below:
"According to him, Buhari's choice is premised on the fact that he has the capacity to foster peace and development that Nigerians desire"
"The Christian leaders are not partisans but considered peace as paramount as our concern is about who will engender security of lives and properties. Therefore, we do not care whether a Christian or Muslim becomes our president; all we wanted was someone who would bring about peace that people desire."
It could be deduced from the above that christen leaders decisively voted for you and your party because of their keen desire for security of life, property and economic development. Contrary to their expectation up till this Month of November 8 2018, Nigerians are still being killed almost every day without being in a civil war and even the lives of our dear police and soldiers are unjustifiably at stake. In these situations what should we do? Why do not we diligently look for a man of great inspirational acumen just like Joseph (the slave in Egypt under the Pharaoh's regime 1650BC)?
Furthermore, the highly respected traditional authorities, the kings and God's representatives, the pastors are also being killed and molested in this country. Nigerian patriots and true compatriots, are the major reasons adduced for voting the present Government in to power already being achieved? Are the major reasons considered by Christian leaders for voting this present government into power also being already achieved as at the time expected? - Rhetorical questions.
WARNING
The situation on ground is clearly an indication that under a great political drive, anybody if care is not taken, can easily alter questionable and unprophetic statement just like Prophet Elijah I King 19:10-18 or tempted to take a wrong decision just like Prophet Samuel I Samuel 16:6-13.
Furthermore, if it was not God's intervention, the great Prophet Samuel would have taken a wrong decision which could have completely destroyed existence of Israel just because of these three reasons;
v Physical appearance of Eliab.
v Eliab was the most experienced man in the Jesse's family.
v Fear of situations in Israel under the government and strategic governance of King Saul in 1051BC
Samuel's Reaction: Immediately he received God's warning, the God-fearing prophet vowed that he would not sit until David came or appeared. Are our prophets and true patriots praying fervently and waiting for David to appear? (1samuel 16: 10 - 11).or you think it is too late.
In addition, the Joseph did not only liberated Egypt from the famine but also made the country to become the most powerful, respected famous country and land of refugees for those who were seeking economic asylum then through his visionary and inspirational acumen to interpret the kings' dream and discern solutions to imminent famine in Egypt (Genesis 40: 14-40).Consequently, the slave became the Prime minister and the best ruler in history of Egypt.
Nigerians could never forget one of our fathers who tore up his membership card of his party in solidarity for anticipated changes or drastic improvement in term of security and phenomenal socio-economic transformation. That is why some of them are now lamenting and criticizing the present government critically without minding the accusation and blames they are now being exposed to.
Change had come and continuity were simultaneously orchestrated, blown here and there immediately after 2015 general elections in this country. The words change and continuity were triumphantly echoed by most of the citizens, party members and their sycophants here and there in the country. `
Fellow Nigerians what kind of changes have we seen in terms of security, economic developments and so on. Yes, based on a critical patriotic comparative analysis, using 2010 or 2014 as base year for determining the magnitude or trend of consumer price index; cost-of-living index; death rate; insecurity rate; rate of economic development and so on in each year till date, surely we have recorded obvious changes in terms of rise in both internal and external debts, exorbitant increase in general price level of the staple, fuel, essential goods, dilapidated inter-states, intra-state roads and alarming insecurity. Real Nigerians are perturbed by the present situations.
Truly if we are going to call a spade a spade the situation on ground now is a shattered dream of hope or trust of the poor people who voted for them, the rich who could not discern their contrivances, their analysts who sold their party to the masses and Christians leaders who supported and voted for them.
Therefore, the patriots let us make unconditional resolute decisions to search diligently for who would liberate this country from these prevailing problems. This is paradoxical advice that calls for the genuine patriots and all compatriots who have been long yearning for true democracy, security, unity, peace in this country to re-examine their decisions and take immediate steps.
I appeal to all Nigerian citizens and citizenry irrespective of our political or economic status to let us eschew nepotism, regionalism and economic status in choosing who will lead this country in 2019 so as to prevent this threatening history from repeating itself.
I Ajayi Alade-Ola still reiterate it that Nigeria needs real democracy or egalitarianism not pseudo-democracy so for God sake, money, bribery, thuggery, hooliganism, election malpractices, nepotism, tribalism, regionalism and so on must not rule us again in this country.
All patriots, God-fearing people and prophets of God do you stand aloof or look for David or Joseph irrespective of his present political and economic status. Please my dear Nigerians let uspave way for real democracy.
Dear compatriots, patriotic political analysts, political leaders, voters and religion leaders, you still sit good citizens, great leaders and prophets nevertheless, I am sincerely obliged to remind everyone of us in this country that any situational point at which a new government assumes a mantle of leadership or governance should at worst, remain as it is (stagnant situation), come-hell it must not deteriorates a pinch further.
Now that Mr. Change and Mr. Continuity have failed and are in shambles, their powerful offspring tagged Mr. Money is now in powerful control. This is a monetary replacement of Mr. Change and Mr. Continuity. The hungry people have been bowing for and adoring Mr. Money. These are the people that the pervading situation in the country have rendered impoverished. Mr. Money is popularly known as "dibo ki o se obe" in Yoruba perspective. This is literarily means vote and prepares soup.
Mr. Money has been tremendously and uncontrollably influencing the successive elections in our country now. I was taken seriously aback when I heard about allegations of election mal-practices and ugly incidences that transpired in Imo state, Ekiti state and during the re-run election in Osun state.
This is the cankerworm which tends to destroy the bedrock and backbone of our great country. This act is analogous or tantamount to aggravated political disorder or unprogressive political culture.
Truly, this is certainly the bedrock of insecurity, insurgency, corruption and pseudo-democracy. These lingering political behavioural variables always mar the reputation of any given society in this modern society both internally and internationally.
This political degeneration is the mother of all sorts of vices one can think of especially in a country where there are propagandistic clamours for fighting corruption by deceptive propagandists. Please, you patriots and genuine compatriots let s wake up!
The analyst is of strong opinion that if any other political parties would involve in election malpractices, the members of the political party that is hellbent in clamouring for battening corruptions should not come hell, take part in election malpractices otherwise they are deceptive propagandists.
The entire ongoings in this great country now are truly signals of bad omen instead of expected beacon of hope in this turbulent and troubled time. Perturbed enough, this is a country that is long being clamouring for fighting corruption and insecurity. Oh God! how pathetic is the situations that pervade our country, where soldiers, police, national youth coppers, kings and common masses are being killed or kidnapped. God! We need inspired Joseph for the liberation of this country.
As usual, it should be noted that this write-up is not meant to undermine nor undergirdyour government, strategic political approaches, governance, experience, intelligence, or reputation yet for the liberation of this great country from insecurity, disunity, nepotism, tribalism, economic recession, and serious unemployment. In mercy and in fear of Almighty God, I arise oh compatriots.
Bile is bitter, yet truth is bitterer than bile- Paradoxical write-up
GREAT AFRICA! GREAT NIGERIA! GREAT NIGERIANS!
ALADEOLA OLASUPO.
[email protected]
08072947605.
Disclaimer:

"The views/contents expressed in this article are the sole responsibility of the author(s) and do not necessarily reflect those of The Nigerian Voice. The Nigerian Voice will not be responsible or liable for any inaccurate or incorrect statements contained in this article."