Edo Apc Suspends Speaker Kabiru Adjoto, Adjoto Resists, Takes The Party To Court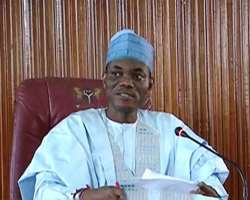 The Edo State Chairman of the All Progressives Congress (APC), Barr Anselm Ojezua, has announced the indefinite suspension of the Edo State Speaker of the House of Assembly, Hon Kabiru Adjoto, for his failure to heed the Party directives of reversing the unconstitutional purported impeachment of the Deputy Speaker, Hon Victor Edoro as well as the suspension slammed on three other legislators by the Speaker.
Meanwhile the embattled Speaker who has lost out on his ticket to the House of Representatives and apparently gone Berserk as a result, has taken both the APC and the Chairman of the Party to court, claiming that the Party and the Chairman lack the power to discipline him as Speaker of the House of Assembly, an arm of the government.
It is rumoured that the former governor of Edo State and leader of the Party in Edo State, Comrade Adams Oshiomhole, has asked Adjoto to step down and allow Edo Central district to take back their rightful position as Speaker but Adjoto was adamant and vowed to resist Oshiomhole's directive hence he was edged out of the Party ticket for House of Representatives for which he also took the APC and the National Chairman to court.
It is not yet clear what the Edo State Governor's position is on the disturbances at the House of Assembly but political watchers predict that Obaseki is likely to toe the one of sound logic by asking Adjoto to leave so that the APC might be able to get some votes in Edo Central which District has evidently been Marginalised from the levers of power for a long time.