BBC Presents – Beyond Fake News: a look at disinformation, truth and solutions in Africa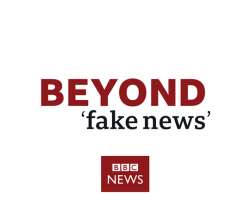 Launching on Mon 12th November, Beyond Fake News is a huge new BBC international anti-disinformation initiative. The season brings events, hackathons, media literacy programmes and stories from across the world on TV, radio and digital, drawing on the expertise of the BBC's international network of journalists. The day of launch in Africa will include a media conference, the reveal of unique BBC research into what can cause the spread of fake news in Africa and the first episode of the brand new TV programme - 'factfinder'.
Jamie Angus, Director of the BBC World Service Group, says: "In 2018 I pledged that the BBC World Service Group would move beyond just talking about the global 'fake news' threat, and take concrete steps to address it. Poor standards of global media literacy, and the ease with which malicious content can spread unchecked on digital platforms mean there's never been a greater need for trustworthy news providers to take proactive steps. We have put our money where our mouth is and invested in real action on the ground in Africa and in India. From funding in-depth research into sharing behaviours online, to rolling out media literacy workshops globally, and by pledging to bring BBC Reality Check to some of the world's most important upcoming elections, this year we're carving our path as a leading global voice for spotting the problems, and setting out ambitious solutions."
The Beyond Fake News media literacy programme has already begun delivering workshops in Kenya and India. It draws on the BBC's pioneering work to tackle disinformation in the UK, where digital literacy workshops have also been delivered to schools across the country.
Beyond Fake News, what's happening? :
Events
· 'Fighting Fake News' Hackathon supported by BBC News – Kenya, 9th & 10th Nov, taking place in Nairobi this two-day event will involve technologists and content creators working in teams to come up with solutions to solve an element of fake news distribution. The teams with the strongest ideas will present at the Beyond Fake News Africa Conference.
· The Beyond Fake News Africa Conference –Kenya, 12th Nov – Delegates will discuss how vulnerable Africa is to misinformation. What can be done and who needs to take responsibility? The conference will feature contributions from BBC News Africa journalists and regional experts. Follow the action all day on @BBCAfrica social media and live page and join in with a special Facebook Live . There will also be coverage Focus On Africa TV & Radio , Newsday , BBC News Swahili TV , BBC News Somali TV and the BBC World News channel.
Research
· The 'Beyond Fake News' research will explore the sharing and verifying of fake news stories by African audiences and comes after users gave the BBC unprecedented access to their encrypted messaging apps in Kenya, and Nigeria. Findings to be revealed on ep.1 of factfinder and bbc.com/Africa on Mon 12th Nov
TV, Radio and Online
· factfinder – launching 12th Nov – The new weekly TV programme that demystifies the news and separates fact from fiction. With tips on spotting fakery and real examples of false stories and their effects – it will be the perfect tool for those who want to avoid getting duped. Episode 1 will explore the BBC news research into fake news, bring you tips from a professional photographer on how to spot photoshopped pictures and meet the Rwandan model who was impersonated on social media by a fake account. There will also be a chance every week to test your abilities as a fake news spotter with incredible stories in the feature 'True or False'. Available on BBC News Africa partner channels with highlights on the BBC News Africa website
· The She Word: Fake Me - 10th Nov - A special edition of the weekly women's discussion programme. From Insta-face to jeeps and bling to full-on faking it, millennials in Africa are living on "likes" as the social media world expands, sometimes going to extreme lengths to clock up the clicks. Using the Instagram look, the content, the followers, we challenge one Kenyan student, a 21 year old social media 'virgin', to go from private to public, and see if she can fake it – in a week. Available on BBC News Africa TV partner channels and the BBC News Africa Youtube channel
A year in Fake News in Africa – 12th Nov– A detailed breakdown of five of the biggest fake news stories in Africa over the past 12 months. What impact did they have? How did they spread? And were they successfully debunked? Plus an animated guide on how to beat fake news.Available on the BBC News Africa website
Every day fakes in Sierra Leone – 12th Nov - Fake news is rife in Sierra Leone, and respected reporter Umaru Fofana is frequently swept into fake news storms. This ranges from everyday rumours that his contacts want him to verify, to being the subject of false news stories himself. In a fragmented media market, people are turning to their trusted contacts rather than media companies to verify stories. Available on BBC World Service radio - Newsday
Somalia: Media freedom under attack - 12th Nov - Somalia is one of the most dangerous places to be a journalist. Freedom of information is undermined by extremist violence, corruption and weak governance. Fighting to get to the facts and against fake news makes journalists targets. They are killed, and many others tortured or injured. In a country struggling to re-build Fergal Keane reports on some of the bravest reporters in the world. Available on the BBC News Africa website
BBC Africa Eye - 13th Nov – a new digital investigation from the team that holds power to account with ground-breaking stories. Available on the BBC News Africa website
· What's New? – 17th Nov – A special feature in the weekly show for young people will show the presenter Debula Kemola going back to her old school to talk to the children there about spotting and understanding fake news. Available on BBC News Africa TV partner channels and the BBC What's New YouTube channel
Life Clinic: Counterfeit drugs in Africa – coming soon - A piece which will look at fakery around the pharma industry – We have all seen the adverts, flyers and online promotions making big claims for new or experimental wonder drugs. This investigation for Life Clinic explores how counterfeit drugs are making their way into the Kenyan market with potentially fatal consequences.