Attempted Assassination: 'I called the police, but they didn't pick my calls,' Ekweremadu shocks Senate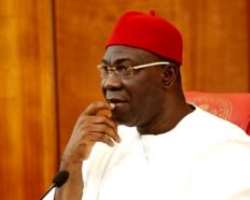 Deputy Senate President, Dr Ike Ekweremadu, had on Tuesday told the Senate plenary   his phone calls to the police wasn't answered during an alleged invasion of his Apo residence by some gunmen in the early hours of the day.
Ekweremadu, who stood under Order 43, explained that he did so because the matter he was about to speak on was still under investigation by the police.
He said  that he had put a call through to the Inspector General of Police, Ibrahim Idris, but his phone was switched off; adding that he also called some of the IGP's personal aides, their phones rang, but there was no response.
"There was struggle and commotion; one of the invaders was caught, while the others escaped…the unlucky person was sent to the police," said the Deputy Senate President.
Ekweremadu's spokesperson, Uche Anichukwu, had in a statement this morning disclosed that the Deputy Senate President's house was invaded and that one of the suspects was caught while trying to escape.
Ekweremadu had  explained that invasion took place at about 4 a.m.
According to him, the prime target of the attackers were himself,  his wife and his son.
"It was at the senator's bedroom that a struggle ensued, leading to the arrest of one of the assailants with dangerous weapons and housebreaking devices, while the rest managed to escape," said Anichukwu.
The Senate President, Senator Abubakar Bukola Saraki, in his reaction, expressed concern about the lethargic police by the police.
He expressed the  hope that the police was not partisan in the incident; urged the leadership of the police to wake up and address the situation.
He also urged the Chairman of the Senate Committee on Police to get in touch with the police, find out what really happened, and get back to the Senate today.