Buhari's 'New Affection' for Jonathan and the 2019 Elections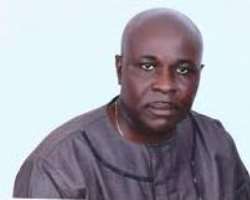 As we nudge towards the 2019 presidential election, and with many people predicting that it will be more bitterly fought than the acrimonious 2015 poll, there is something that is giving me some hope that the doomsday scenario may not materialize after all:it is Buhari's increasingly softening rhetoric on former President Jonathan. For instance when he hosted members of the Kannywood entertainment industry to a dinner at the Presidential Villa, Abuja, about two weeks ago, Buhari, after recalling his futile quests for the presidency between 2003 and 2011 (and becoming fourth time lucky in 2015),said he would continue to hold Jonathan in high esteem. "He (Jonathan) was in power as Deputy Governor, Governor (Bayelsa), Vice-President and President, all for about 10 years and he voluntarily accepted defeat and surrendered power to me,'' he was quoted as saying.
In the triumphalism that quickly set in the APC camp shortly after it came to power, there was nothing to show that Buhari truly held Jonathan in high esteem or even respected that his conceding defeat saved the country from possible bloodshed that no one could have predicted how it would end. Rather there were attempts to ridicule or undermine that noble act by suggesting that Jonathan either had no choice but to concede or that he conceded out of fear. The political space was simply saturated with APC's probe rhetoric and of how Jonathan's government bankrupted the country's treasury. Several of his associates were accused and found guilty of corruption charges on pages of newspapers and various social media platforms. I am not suggesting that a leader who committed crimes should be left free just because the leader conceded defeat. I am also not suggesting that Jonathan was innocent of the accusations. The argument has always been that there are better ways of punishing any crime and recovering any loot without humiliating a leader or giving the impression that such efforts at punishing suspected crimes are animated by vendetta.
If Buhari had listened to the advice of little-known fellows like us and privileged reconciliation and nation-building over strong arm tactics and vengeance, his government would perhaps have been lessfiercely resisted than it has turned out to be. Those who called for a different form of politics and rhetoric against the former President for the sake of deepening our democracy and sustaining a putative culture of losers willingly handing over to the winners were blackmailed as 'wailing wailers' (note the triumphal undertone in the onomatopoeia). Those opposed to Buhari borrowed the same simplistic template he used to assess Jonathanand the PDP and reduced metrics for assessing his own government to the simplistic binaries of competence versus incompetence; good versus evil and cosmopolitan versus irredentist.
I believe the lesson is not lost on Buhari. True, Buhari had in the past paid 'respect' to Jonathan for conceding defeat. However given the barrage of probe rhetoric and allegations of humongous sums constantly said to have been seized from his aides, it was difficult to believe that Buhari truly believed in what he said. Now that the blame game has run its course and boomeranged, I am inclined to believe that Buhari now realises that had he adopted a different rhetoric and politics on the Jonathan government, things would have been different in terms of opposition to his government.
I believe there are lessons we can learn from the Buhari government's mistakes in its early years in office in the way it dealt with the Jonathan government and apply the lessons in the conduct of the 2019 presidential campaign:
One, a government sets the tone which critics use to interrogate it. For instance, a government that responds to criticisms politely will concomitantly invite polite interrogation of its policies. In fact a government that eschews the use of harsh words to condemn critics will also make it difficult for critics to use harsh words to evaluate it. If Buhari extends his new-found 'affection' for Jonathan to key opposition leaders, especially Atiku Abubakar, the PDP presidential candidate, we are likely to see a largely decent campaign. True, election campaigns will always be tantamount to wars without bloodshed, but if the leaders use respectful language on each other, it will turn out to be like two boxers who hug each other before the sound of the bell for the first round, and still hug each other at the end of a brutalcontest in which one fighter has been battered into submission. If you resort to the dirtiest language to de-market your opponent, be rest assured that the opponent will pay you back in kind. What goes around, they say, comes around.
Two, Buhari can set the tone of a decent 2019 campaign by making complimentary remarks about Atiku or inviting him for one or two state functions so that supporters of the two leaders will see that their disagreement is not personal. Key aides – for both the Buhari and the Atiku campaigns - could be taught to precede their criticisms of the other candidate by conceding some achievements to the opponent. In the Law of Defamation, this is called 'fair comment'. I believe once the Buhari team does this, the Atiku team will not want to appear as the uncivilized party and will most likely key into the same template, and the nation will be better off for it.
Three, some of Buhari's supporters talk of the advantages of incumbency they have over the opposition (money, use of the security forces etc). This is largely true but also a double edged sword for them. For instance given Buhari's brutal dictatorial past (the worst in our history except for Abacha's), the opposition could easily turn such advantage against the government by for example playing up a legitimate use of the security forces to instil law and order during election as evidence that Buhari has relapsed into his authoritarian past and once again endangered the country's hard-earned democracy. In this era of social media, this could be played up from different angles, and the plethora of human rights activists, already suspicious of Buhari's democratic credentials, could readily buy into it in a sort of self-fulfilling prophecy. Essentially therefore it is in Buhari's interest that the 2019 campaign is conducted in a manner that will not be exceedingly acrimonious because the advantageous tools conferred on his government by its incumbency will lose their legitimacy if the election becomes so acrimonious that people feel the country will trip from the precipice that seems to have become its comfort zone.
Four, if Buhari is announced as the winner of the election and the opposition thinks the election has been rigged, (especially if the margin in the declared victory is slim), Buhari will come under pressure. Precisely because Buhari never conceded defeat in the past – even when he had no structures outside the North or bothered to campaign outside the North – there are debates on whether Buhari will accept defeat if he loses. A way of giving the opposition assurance and also assuring Buhari that his election will be accepted as legitimate if he wins is to get the two leading candidates to commit publicly that if a certain number of the election monitors declare the election as substantially free and fair (or otherwise), it should be accepted as so.
Five, we should also realize that elections are anarchic in societies like ours and that the phenomenon of sit-tightism (leaders who refuse to accept defeat or quit when their constitutionally allowed tenures are up) is high in Africa because of the pervasive fear that the victors will use state machinery to victimize the losers. Buhari government's treatment of Jonathan and people it felt did not vote for Buhari did nothing to allay such fears (witness Buhari's 97 per cent and 5 per cent statement and the regime's extreme demonization of Jonathan). Under sucha circumstance, those who are contesting contest against Buhari know it is not going to be a cup of tea for them if he wins a second term and Buhari and his supporters also know that the 'Jonathan treatment' awaits them if they lose. Following from this, there isan urgent need to break this cycle. One of the options will be for the National Peace Committee to get the two leading candidates to publicly commit in writing to a set of ethical conduct before, during and after the elections. This should include a commitment from both leading candidates that there should be no witch hunting of the losers after the elections.
Disclaimer:

"The views/contents expressed in this article are the sole responsibility of the author(s) and do not necessarily reflect those of The Nigerian Voice. The Nigerian Voice will not be responsible or liable for any inaccurate or incorrect statements contained in this article."