Governor Ambode: A Scapegoat Of Political Godfathers 'selfishness In Nigeria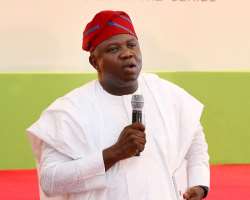 The governorship primary electionsof the All Progressives Congress (APC) in Lagos State might have come and gone. According to the National Working Committee of APC, Mr Babajide Sanwo-Olu was declared winner of the primary elections with 970,851 votes ahead of the incumbent Governor Akinwunmi Ambode, who recorded 72,901votes. The outcome of this exercise was not a surprise to many people because the alpha and omega, the Comptroller General of the party's structure in Lagos State favoured the winner, Mr Babajide Sanwo –Olu. What however stupefies many people till date is how an incumbent Governor who is fairly adjudged to be performing and delivering on the dividends of democracy could be denied a return ticket by his political party. This is because governors are the leaders of their political parties in their respective States. In fact, by the Nigerian standards, notwithstanding their performances in office, second term/return tickets are given to governors automatically by their political parties.
In the heat of the debate pertaining to the second term candidacy of Governor Ambode, Vice President Yemi Osinbajo was reported by the Saharareporters, an online media platform to have said inter alia that "in the eyes of the populace, Ambode has done well". Even Governor Ambode's political godfather, Asiwaju Bola Ahmed Tinubu (BAT) corroborated the Vice President's position. In the words of BAT, "Ambode has done well in office, but he isn't a good party man".Thus, one can unmistakably infer from these bigwigs of APC that Governor Ambode lost the primary election because he has failed to dance to the tune of certain power brokers in APC especially at the state level.
However, as we work towards strengthening and deepening democracy in Nigeria, certain events need to be critically examined as they unfold; otherwise, they may mar the progress of our democracy in future if left to bury their ugly faces beneath the earth's surface without any interrogation or doing proper circumspection. This incident in Lagos State has raised questions about the importance/credibility of godfathers in our polity and more carefully raised two fundamental questions which Nigerians must find answers to. First, between political party's interest and national interest, which should an elected leader put first? Second, who is a good party man?
When a governor takes the oath of office, he swears to devote himself to the service and wellbeing of the people. A governor swears to protect, preserve and promote the overall interest of his people without any fear or favour. It is also imperative to stress that once elected as a governor under any political party, he is expected to be a father of all the political parties, tribes and religious groups under his jurisdiction. No responsible democratically elected leader is expected to promote his party's interest ahead of people's overwhelming interest, or promote solely the interest of selected few members of his party. This therefore, buttresses the fact that national interest is far more important than political party's interest. Any political party that is not prepared or positioned itself in a manner to always serve the people and their interest is not only unworthy of being called a political party but also self-centred. Nigeria does not deserve such political party at all.
In answering the second question raised above, it is necessary to first remark that qualities of a good party man are numerous in number. But before enumerating these qualities, we must not forget that our individual differences, perceptions, relationships and interactions with one another strongly influence who is considered a good or bad party man. By nature, humans are largely sentimental, emotional, and egocentric; and possess short memories.Humans are quick to judge or castigate one another for offences they may be ignorant about. Generally speaking, a good party man amongst other necessary personal attributes is supposed to be loyal, faithful to the party, and abstains completely from engaging in any activities that can hamper on the integrity and progress of the party, either directly or indirectly.
In Nigeria, we must not get delusional about who a good party man is. A good party man is one who is totally submissive, loyal and faithful, almost to the point of imbecility, to few individuals in the party but not the party as a whole. This is because few powerful individuals control political parties in Nigeria. There is no internal democracy, established and clear cut ideology/philosophy, equity, fairness, justice, transparency and accountability. Only few bigwigs set and break rules at will. Thus, to remain a good party man, a governor must remain subservient and ready to kowtow always with the powers that be in the party.
In conclusion, the emergence of Mr Babajide Sanwo-Olu (the supposed good party man) as the governorship candidate of APC in the forthcoming 2019 gubernatorial election in Lagos State has clearly evinced that godfathers are still very much alive and active in our polity. They should be held responsible for the sordid state of the nation. On a personal note, a vote for Mr Babajide Sanwo-Olu the 2019 gubernatorial polls is a vote for the consolidation and elongation of the tenure of the selfishness, continual domination, oppression and aggrandizement of the political godfathers. Lagos State deserves a governor who would put the interest of the residents first in all his engagements.
ShamsudeenAyeni, a socio political commentator, writes from Akute, Ogun State. He can be reached via: [email protected]
Disclaimer:

"The views/contents expressed in this article are the sole responsibility of the author(s) and do not necessarily reflect those of The Nigerian Voice. The Nigerian Voice will not be responsible or liable for any inaccurate or incorrect statements contained in this article."