Confusion In South East Over Atiku/Obi Ticket. Biafra Nations Youth League, BNYL Reveals Reasons VP Slot Was Zoned To The South East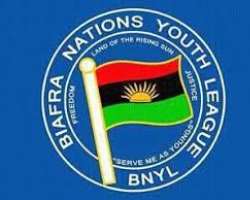 Biafra Nations Youth League, BNYL has stated that the South East will not give block votes to the PDP presidential candidate, Atiku Abubakar because they choose to give the region the VP slot. The group through its National Leader, Princewill Chimezie Richard insisted that the VP slot given to the South East is to divide the Igbos and silence the Biafra agitators adding that the struggle for Biafra is beyond political position. "Politicians remains Politicians, Biafra Agitators remains Biafra agitators. It is not all about political offices, we are not fools that we should be fighting while Politicians will be taking advantage of our struggles to seek political offices, we don't know Peter Obi in Biafra Movement and he is not influential in the South East or South South that our people will vote Atiku because he was appointed a running mate"
While commending the decision of the South East Governors not to endorse Atiku/Peter Obi, BNYL said it was a tactics to extend more northern rule, "we are happy they are now waking up, and understands the politics of the north against the East. We have been hearing clamours of Igbo Presidency 2023 and I feel the only way to make sure that it doesn't happen is to present another Fulani man so that by appointing an Igbo as his VP the tenure of the North will extend to another eight years and by then the South West will be preparing to take over.
I think the Rivers State Governor was right when he said the APC is using some aspirants in PDP".