Missing General: We know the culprits: Army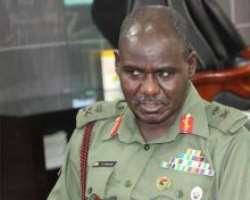 The GOC 3 Army Division, Maj.- Gen. Benson Akinroluyo (2nd right), explains the military search operation at Dura Du pond to the Executive Secretary of National Human Rights Commission, Anthony Ojokwu, during a visit by a delegation of the commission to Plateau State yesterday Photo: Dickson Adama
The GOC 3 Army Division in Rukuba Plateau State, Major-General Benson Akinroluyo, says the military knows the culprits connected to the missing of General Idris Alkali whose car was recently found in Dura Du pond in Jos South Local Government Area of Plateau State.
He said the army had the pictures of all the suspects, adding that investigation was still ongoing.
Speaking at the pond site where he received the Executive Secretary of the National Human Rights Commission, Anthony Ojokwu, the GOC asked the people of the community not to run away from their houses in fear of any military onslaught.
He asked them to cooperate with the military so that the body of General Alkali (if already killed) could be recovered and given a befitting burial.
Ojokwu said it was imperative that innocent people did not suffer in the search for the general, noting however that the actual culprits should be brought to book.
Ojokwu said his commission always looked forward to proactive measures that would avert crises.
Meanwhile, Plateau State Governor Simon Lalong, who also received the commission in the government house, assured that lasting peace would soon return to the state.