Delta govt constructs new runway at Asaba Airport, prepares it for privatisation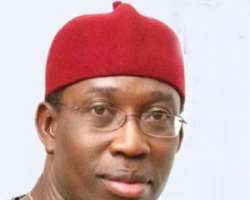 Governor ifeany Okowa of Delta State has said that the government has built a new world class runway for Asaba Airport in a bid to make ready for huge planes to to fly in out of it.
Okowa qho was speaking during the Executive Section of All Nigeria Editors Conference holding in Asaba Delta State capital on Friday,  explained that to effectively manage the Asaba Airport, and improve on the state's IGR, the government had put necessary machinery in place to commercialise or privatise the airport.
He said that as a result  the airport, which was downgraded in 2014 had now been upgraded to category six, to enable it take bigger planes like Boeing 737.
According to him, the plan of his administration is to make it a hub in the zone to serve adjoining towns and cities.
Okowa said that the airport is strategically placed to serve passengers from Onitsha, Awka and othe major towns in the area.
He said  that since government could not effectively manage the facility, it resolved to engage the private sector.
"We got technical advise to privatise or commercialise the airport and we have published for investors to bid for it," he said.
The governor, however, disclosed that the state government deploys about N1 '3 billion to payment of pensions monthly and about N7 billion for salaries of the workers in the state.
According to the governor, the state workforce stands at about 50,000.
Okowa disclosed that the state's annual Internally Generated Revenue (IGR) has hit N51 billion.
The governor stated this at the 14th All Nigeria Editors Conference in Asaba.
According to him, the IGR was as low as N30 billion in 2016 and following some re-engineering, his administration was able to increase it to N51 billion annually.
He noted that government was able to increase its revenue by making sure that all target groups including the market women were captured in the tax system.
"We were able to collect taxes from the market women not just as tax but also as premium for the state health insurance scheme, which they benefit from by paying their taxes," he said.