Pregnant Women To Receive Quality Healthcare Service In Delta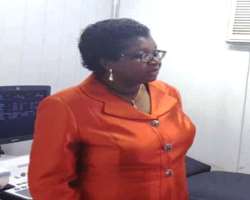 Pregnant women in Delta State have been assured that the State of Government is committed in the provision of quality up-to-date health care for them whenever they patronize government owned medical facilities in the State, the Permanent Secretary, Ministry of Health, Dr. (Mrs.) Minnie Oseji, has said.
The assurance was given by Dr. (Mrs.) Oseji, during the opening ceremony of the 3 - Days Ultrasound Training Programme for Medical Doctors organized by the Delta State Ministry of Health at the Conference Hall of the Delta State Contributory Health Commission, Asaba.
She said that with the use of obstetric sonography as the ideal tool in prenatal care, the Ministry of Health is committed to ensuring that Obstetric Ultrasonography becomes the norm in all the health facilities in Delta State.
Dr. Oseji stressed the need to train and retrain Sonologists to place them in a better position to deliver effective services to expectant mothers which will go a long way in reducing incidents of false information that sometimes have devastating psycho-social effects on them during pregnancy.
According to her, 'the training programme was a follow-up to the 2015 training organized by the State Hospital Management Board which had 26 Medical Doctors in attendance then and had participants drawn from the government hospitals only but did not have practical component'.
She said the Ministry decided to build upon that 2015 training programme and this time around not limiting participation from the Hospitals Management Board but had participants drawn from both the public and private health facilities in the State.
Dr. Oseji stated that at the end the training, participants will be attached to different Consultant Radiologists who will be available for on-site practical hands-on training and this will be documented in a log book, so that over time the Ministry would know how many Medical Doctors are proficient in the use of Ultrasound.
The training programme which had Dr. Chuks Agholor, a Chief Consultant Radiologist/Sonologist, General Hospital Okwe-Asaba as the facilitator, had forty-one (41) Medical Doctors from both the public and private health facilities in the State in attendance.
Lecture delivered at the training included physical principles of ultrasound, the ultrasound equipment, professional conduct/ medical ethics and counseling, and documentation of scan findings/referral/follow up/intervention.