EKITI PDP AND THE LAMENTATIONS OF A FRUSTRATED AIDE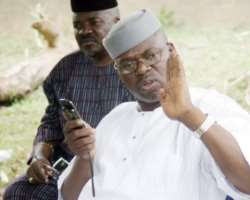 PHOTO: EKITI STATE GOVERNOR, MR. SEGUN ONI
It pained me to contemplate a response to the diatribe of Moses Jolayemi, an aide to Mr. Segun Oni who was recently demoted for non performance by a non –performing government of Ekiti PDP. I had wanted to put my eyes away from his script of tragic-comedy titled: Ekiti AC and the limits of Falsehood, which was published in ThisDay of Monday May 24, 2010 but if a mad man is allowed to fiddle with the corpse of his dead mother, he would roast the corpse for dinner on a popular road terminus.
As usual, Mr. Jolayemi hawked lies and absolute fallacies for only the nit-wit and left the discerning public to laugh at his folly, while he sings his own Nunc Dimittis. Mr. Jolayemi is one of the numerous human tragedies brought to Ekiti by the PDP who had become political liabilities and social menace with vaults of integrity deficit. I had not expected any good from a 1962/1964 (?) (as he keeps changing his age as it suits) who has no personal family to foster to act like a man who has stake in life, which is devoid of intoxicating liquor and lewd bestiality.
To straighten the records, Nigerians home and abroad know who are wholesalers and retailers of falsehood in Ekiti. They know those who owe 3 months workers' salaries and would buy pages of newspapers to beat their chest that no worker is owed and within a short while went on air that they would borrow 3.5 billion naira to pay arrears of workers' salaries. Mr. Jolayemi is the summary of his PDP failed and illegitimate government in Ekiti, obdurate, insatiably rapacious, mercurial, shameless, insipid, artfully dodgy, pathologically vicious and dreadfully unscrupulous. They are hedonists and political lechers.
This response is to expose the lacuna which Mr. Jolayemi could not fill with fallacies in his incoherent piece of insults which was so important to his chorus friends and was published twice in the same edition of ThisDay of May 24, 2010. I don't cherish the large heartedness of Jolayemi who claimed to have assisted many Ekiti indigenes to gain employment in Thisday but alas, his wards are the Robin Hoods of the establishment. He has only become the watershed of the thieves in Thisday. Mr. Jolayemi was not invited by the police to trace the whereabouts of his fleecing ward but to trace the whereabouts of the fleeced 800 million naira.
The alibi of Mr. Jolayemi who called me a 'murderous agent' for exposing his ordeal is in the tradition of his masters in Ekiti who earned 16 billion between January and April 2010 from the Federation Account and yet claimed paucity of funds in owing workers 3 months salaries. I sympathize with Mr. Moses who childishly claimed that he is innocent of culpability in the sleaze because his newsroom colleagues shook hands with him when he got there after leaving the police station. Methinks his colleagues shook hands with him and later shook their heads for the abrasive character.
Jolayemi occurred as an unfulfilled character who could not move up the media ladder meritoriously and got a political rehabilitation with a colossal professional deficit and resultant unacomplishment. The truth Mr. Jolayemi was unsuccessfully running away from is that, he was actually arrested by the police in connection with the 800 million fraud in Thisday. He made a statement as customary of suspected criminals. Mr. Jolayemi cajoled his ilks that he was only a voluntary guest of the police and only decided to make a statement. What a pathological liar with light brains. When did the police station become a tourist centre where Moses would perform his obfuscated duties as Segun Oni's Tourism Adviser? Without police invitation, Mr. Moses Jolayemi is so under employed that he would leave his office in Ado-Ekiti on an unsolicited visit to a Lagos police station!
Those who know Jolayemi in his growing days in Okemesi, his traumatized colleagues in the media and lately his co- travelers in the sinking boat of Ekiti PDP government attest to the no-character of Moses character. His volte-face is only the smell of flatulence from the anus of a shameless, chameleonic and pompous charlatan who wakes and sleeps in falsehood and political decoy. Mr. Jolayemi and his co political liabilities would equate whoever exposes them or says the truth about Ekiti as unemployed or rented. Pity, in their morbid estimation, whoever is not part of the Tower of Babel of Ekiti PDP or had worked in Rank Xerox is hungry and desperate. I challenge Mr. Jolayemi to publish the identities of the aides of his master and let the public have a peep of into their past and present. Those of us in Fayemi Campaign Organisation and by extension, AC are known and I am ready to publish ours if Mr. Jolayemi would yield to my challenge. Moses Jolayemi exhibited the traits of an irresponsible public official when in his diatribe, he made disparaging remarks about Ekitipanupo online forum consisting of distinguished Ekiti sons and daughters because the forum refused to partner Ekiti government in dishing out lies. It is interesting however, that the secretary of the forum had adequately put Jolayemi where he belongs.
The truth is that Mr. Jolayemi had never run a mini-office in his life even a home hence his confused definition of who a loafer is. It is amazing that Mr. Jolayemi showcased his briefs as Tourism Adviser to the decadent regime of Ekiti PDP and non-existent achievements in the Tourism sector. Mr. Jolayemi and his master would soon be charged for criminal falsehood by Ekiti people. I challenge any reader of his tantrum to visit Ikogosi Warm Spring and see what a clueless regime had done to a once flourishing landmark. The pitiable scenery there is a reflection of the scattered character of his government. Segun Oni's regime knew that Tourism was being cremated finally with redeployment of Jolayemi since he murdered and buried Oni's media relations and public communication as his erstwhile publicist. Whichever sector PDP regime wishes to kill, Jolayemi is the undisputable undertaker.
I will not waste time and space to recommend the public once again to visit the odious template of his masters in Ekiti. Jolayemi should not make Thisday an acquiescing media outfit where he hides to throw vitriolic because Nigerians hold the newspaper in high esteem for its progressive editorial policy. Furthermore, Thisday is highly revered as it organizes awards to deserving public officials annually. In one of such awards, Jolayemi's Ekiti government was rated as the worst performing in the South-West and by extension, in the country. The daily public opprobrium they suffer is enough and I won't add insult to their socio-political injuries. The regime, out of public fear of jeering and booing could not celebrate Children Day and Democracy Day.
It is not only Jolayemi that suffers moral deficit in the venal Cabinet of Ekiti PDP regime. Many are having rich criminal files in Ijapo police station, Akure while others are marital dropouts, who out of frustration had turned into female hyenas with coital prowess as their only credential. In Ekiti, people know who represents light and who is for darkness. Ekiti PDP is a house of horror and the only memo served is falsehood.
A visit to Ikun Ekiti would reveal their damaging lie with 600 golden cows of about 1 million each. The cows had finally ended up in the insatiable executive bellies of the golden buyers while the state could not reap a tin of diary product since 2008. This is a regime that could not maintain ordinary generator in the State Radio and Television station necessitating its going off air for 8 weeks but is dreaming of building an airport! Despite its shameless lies, Ekiti government had made water the enemy of the State with its hydro-fraudulent practices and water-gate atrocities after collecting billions of naira from MDG funds. Similarly, 2 billion naira released to Ekiti farmers had developed wings culminating in farmers' protest on the streets of Ado-Ekiti. Up till now, 2 billion naira micro credit is unaccounted for just as the beneficiaries are unknown. Fake scholarships were awarded to equally fictitious students. They have equally fed Ekiti children with rotten eggs and expired milk products. No sector is exempted from their incompetence and unwholesome disposition. Peace had suffered most.
Mr. Jolayemi is a product of his present environment and could not be better than the idiosyncrasies of his clique. If Jolayemi got to Thisday and was greeted with banters, it is sign that they heaved a sigh of relief that a deadwood had been dislodged and sold on a transfer market to Ekiti PDP which is a habitual recipient of bad goods.
Hakeem Jamiu is a Media Consultant to Dr. Kayode Fayemi, the Gubernatorial Candidate of the Action Congress, Ekiti State.
Disclaimer:

"The views/contents expressed in this article are the sole responsibility of the author(s) and do not necessarily reflect those of The Nigerian Voice. The Nigerian Voice will not be responsible or liable for any inaccurate or incorrect statements contained in this article."
Articles by thewillnigeria.com