RE: PDP Nominates An Ageless Suspect for President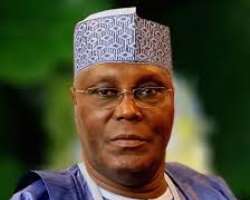 Abuja, Nigeria October 7, 2018: I hereby congratulate former Vice President Atiku Abubarkar for finally becoming the presidential nominee of the Peoples' Democratic Party of Nigeria (PDP). But the party has essentially nominated an ageless suspect for president.
With this nomination, the Nigerian value system ought to take a centre stage. We are involved. The Nigerian masses are overdue to learn how Mr. Abubarkar became a billionaire after retiring as a mere custom officer, and much more. The world will like to finally know why a potential president of Nigeria cannot set his foot on the American soil, among many other controversies.
This election is guaranteed to be like no other. For Nigeria's leadership failure has continued because there appears to be no consequences for bad behavior in the country. When there are no consequences for bad behavior, the bad behavior only goes to worsen. That explains why the likes of Atiku must not be elected Nigerian president.
May God Bless the Federal Republic of Nigeria!!
POWER TO THE MASSES: The Time is NOW
Signed:
SKC Ogbonnia
Abuja, Nigeria