OSODIEME: Celebrating a Humanist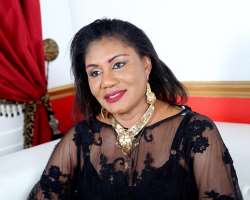 Chief (Mrs.) Ebelechukwu Obiano (Osodieme)
Over the years, quiet philanthropy has been a major past-time for the Obianos. It is not surprising therefore, that in public life, the support of wife of the Governor, Chief (Mrs.) Ebelechukwu Obiano (Osodieme), founder of the NGO, Caring Family Enhancement Initiative (CAFÉ), features prominently in discussions of the humane side of the Obiano administration in Anambra State.
Wife of Governor of Anambra State, Founder CAFE, Chief (Mrs.) Ebelechukwu Obiano
In selfless living, genuine philanthropists acknowledge the manifestation of God's grace in our lives by casting a fair glance at the downtrodden and often forgotten citizens all in effort to make the world a better place. More for those in exalted public service, self-abnegation is anchored on the realization that after the exercise of authority and power consequent upon the pageantry associated with officialdom, what really counts is how many lives one truly touches while in service.
Widely acknowledged for positively affecting lives and caring for the needy, Osodieme has proven over time that her passion for charity and extemporal intervention on behalf of the helpless is deep-rooted. Recently, when the God of procreation took special interest in bequeathing a two families resident in Anambra with quintuplets, Osodieme came to the rescue of the bewildered couples by off-setting their huge hospital bills and enabling them go back home with their bundles of joy. In the same, vein she has sent help to some who gave birth amidst rampaging flood; she has been visiting Internally Displaced Persons' (IDPs) Camps across Anambra to identify with flood victims and give them succour and hope.
Wife of Governor of Anambra State, Founder CAFE, Chief (Mrs.) Ebelechukwu Obiano
An advocate of the English Writer and preacher's (John Bunyan) powerful truth: "You haven't lived today until you've done something for someone who cannot pay you back," Osodieme understands the importance of a family having a roof over their heads. She appreciates that a human without a home, practically lives in the wild. In her estimation, a widow may have lost all, but with a new home, widowhood could be better contended with. This is why she has built twenty-two houses and handed them over free of any charge to hapless widows across the state.
Osodieme never misses the opportunity to build empathy and urge for collective care and assistance for the less privileged members of the society. At every turn, she has calls on ndi Anambra to be agents of change in an era of pervasive want and privation. "Be positive change agents!" she charged on the occasion of World Humanitarian Day. "It behooves on us as Nigerians especially ndi Anambra to reach out to our neighbours and those in need either in the form of advice or little help which tends to go a long way in healing the larger society." She stressed.
Recalling Osodieme's many acts of charity is speckled by a number of tear rending scenes. Perhaps, one of the most enduring images of her kindness was on display in March 2018 when she reunited a fully recovered 62-year old widow and former inmate of Nteje Home for Mentally Challenged with her family after thirty-five years of being lost and presumed dead.
Wife of Governor of Anambra State, Founder CAFE, Chief (Mrs.) Ebelechukwu Obiano
Osodieme continues to make telling impact in the lives of many, putting smiles on faces when all hopes appear lost. Many women and youths, even those not privileged to enjoy any direct encounter with her, owe their training in new skills and start-up entrepreneurship to her magnanimity and support. Also in the course of several outreach tours and advocacy campaigns through Anambra communities, Osodieme has proven her mettle as an amazon and effective mobiliser. As an advocate of active participation of women in politics, Osodieme rallies women to recognize their importance as a major voting block and ensure that they are well prepared with members of their families (not excluding their husbands) to make the difference on Election Days.
A humble winner of multiple awards in recognition of her services to humanity, Osodieme is quick to deemphasize the accolades trailing her many achievements. She is ever challenged to keep doing good. On winning the Zik Prize for Leadership in Humanitarian Service 2017 for instance, she said: "This means more work, once you are acknowledged for what you do it spurs you to do more. My husband is working for Anambra State and I am supporting to ensure that things go well. I want to thank God Almighty for this recognition; for them to have fished me out for what I do. "
Wife of Governor of Anambra State, Founder CAFE, Chief (Mrs.) Ebelechukwu Obiano
As Osodieme celebrates five decades and half of God's grace on earth; she continues to demonstrate the capacity to make a difference in the lives of indigent women, widows and children in Anambra State and beyond. Although she has chosen to quietly mark her birthday with family members, it behooves on us to recognize her immense contributions as a humanist who is improving the lots of many of our brothers and sisters as we join all the people of goodwill in wishing her Happy Birthday.
Ozumba is Chief Media Officer to Governor of Anambra State.
Disclaimer:

"The views/contents expressed in this article are the sole responsibility of the author(s) and do not necessarily reflect those of The Nigerian Voice. The Nigerian Voice will not be responsible or liable for any inaccurate or incorrect statements contained in this article."
Articles by Emeka Ozumba