Extradition, Bail: James Ibori fights battle of his life...loses weight, blame cronies, lawyers for not fighting hard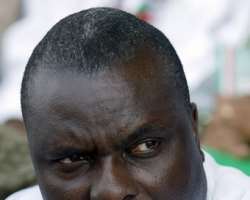 James Ibori
Ex Delta Governor, James Ibori, is currently fighting the battle of his life, as he and his legal team are trying to get him bail, and subsequently stop his imminent extradition to the United Kingdom to face sundry money laundering charges.
Pointblanknews.com also learnt that pressures from the Nigeria intelligence community and the EFCC forced the Dubai authorities to revoke Ibori's bail.
Sequel to pressures, the Dubai authorities were forced to look at the three main factors considered when contemplating bail revocation. They are flight risk, interfere with evidence or witness, or commit another offence.
It was learnt that the EFCC and the MET made strong arguments about flight risk after the conviction of his mistress and sister, and the enormous wealth of Ibori .
It was however learnt that the Nigeria authorities also made subtle threats about a review of business deals between the United Arab Emirates (UAE) and Nigeria if Ibori escapes while on bail. One of the main targets was the Emirate Airline.
" we had to put pressure on them, they had to be hold that if they allow Ibori get away it could affect some of our business deals including the Emirate Airline. We told them not to allow the Ibori case become an international incident"
Checks by pointblanknews.com revealed that the ex governor has lost some weight as he sits in a Dubai jail, awaiting final arguments by the Metropolitan Police backed by Nigeria's EFCC.
It was learnt that Ibori has assured his team that it has an enormous war chest to fight his extradition to the UK.
Said our source "the convictions of Udoamaka and Ibori-Ibie in the UK are worrying him so much, coupled with the fact that his bail has been revoked. It is becoming frustrating by the day because it is almost certain the MET would get a conviction. He has told his team money is not the problem..He has not been eating well, we are told, and has lost weight "
The Team ibori had used submitted several documents to support the argument that he is being persecuted in Nigeria, but the contention did not fly when placed side by side  the contention of the MET that the UK has no reason to persecute Ibori.