SHOW OF SHAME: House Of Reps Member Goes Out Of Control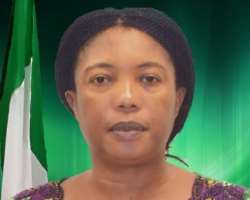 Evangelist Mrs Joan Onyeameachi Mrakpor
The member representing Aniocha/Oshimili Federal Constituency in the lower chambers of the National Assembly (NASS), Evangelist Mrs Joan Onyeameachi Mrakpor, allegedly went out of control at the venue of the House of Representative primaries of the Peoples' Democratic Party (PDP), held at the Cenotaph, Asaba, Delta State.
Trouble started Wednesday when the incumbent after a phone call, stepped down from the pavilion and headed towards the arena where the electoral panel were counting the votes and demanded to see the ballot papers.
The wife of the Delta State Attorney-General and Commissioner for Justice on seeing that she had lost her highly exalted office allegedly turned deaf ears to all plea to leave the counting arena after she outsmarted men of the Department of Security Service (DSS), Nigerian Police Force (NPF) and the Nigeria Security and Civil Defence Corps (NSCDC) who were on the ground to ensure law and order.
Mrakpor, who perceived that she might have lost the election to one of her opponents and former member of the House of Representatives, Ndudi Elumelu, allegedly held onto the ballot papers and stayed put even when her agents were on ground.
The panel had counted the votes of Ike Onwundiamo who scored 1 vote, Peter Onwunsanya, who pulled 13 votes while she scored 226 votes with about 518 delegates with 12 void votes and were about to count her rivalry, Elumelu, when she allegedly disrupted the process as she insisted that she would stand by the table.
Plastic chairs and tables were destroyed while some engaged in fisticuff before the police shut sporadically into the air to disperse the people while tear-gas was severally released on the unarmed spectators, agents, delegates and journalists who were on ground to observe and do their legitimate jobs.
It took the quick intervention of the police who reinforced to the venue to calm the situation before peace and normalcy were restored to the place after several minutes of sporadic shootings.
Mrakpor, while addressing the press Thursday at her Asaba residence claimed that Ndudi, induced the delegates with $1500 and food, alleging that her opponent also engaged the delegates from the four local governments in an open campaign after he casted his vote.
Also, Elumelu, at Orchid hotel said: "In the course of the sorting out of the votes, I was already aware of my own total votes that the people voted for me because when they were sorting out, I was jotting it down. Now they counted the first who got 1, counted the second person who got 13, they counted the third person who is my sister who got 226 and they were about counting mine before she walked down to them", noting that the decision of the people should count.