'Proprietor's scholarship did it for me',Crescent Valedictorian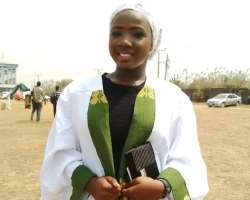 The 2018 best graduating student of Crescent University Abeokuta, Miss Ayokunnumi Tiamiyu has showered accolades on the Founder and Proprietor, His Excellency Judge Bola Ajibola for reviving her university education through scholarship when she was on the verge of dropping out owing to her parent's inability to continue to pay her school fees.
The jubilant 21-year old Tiamiyu will be leading the pack at the 10th convocation with a Cumulative Grade Point Average of 4.91 from the Department of Microbiology,College of Natural and Applied Sciences (CONAS).
The institution's 10th convocation lecture has been sheduled for Friday 19th October while the convocation proper will be coming up on Saturday 20th October 2018 on the university campus in Abeokuta, Ogun State,Nigeria.
With her CGPA of 4.91,Ayokunnumi Tiamiyu has emerged best of the best of all first-class products of Crescent University,Abeokuta among ten sets ever graduated from citadel of academic and moral excellence.
According to the scholar, she had already lost hope of continuing her studies at Crescent University and was almost requesting for her transcript to be able to seek admission into a public university when her attention was drawn to Bola Ajibola Scholarship for Academic and Moral Excellence.That was in her 200-level, 2016, when she was on a grade point of 4.95,the highest any student could have had.
She recalled that "few months later,I got a call from the Deputy Registrar,Alhaji M. A. Lawal to come and apply for my scholarship, that he had spoken to the vice chancellor about it".The Vice Chancellor,Prof. Ibraheem Gbajabiamila who was highly impressed with her first class grade assured her that she would get the scholarship with a caveat that she must maintain her class of grade throughout her studies. It so happened that few weeks later, Tiamiyu got another call from the university that her scholarship had been granted and that she should come for an acknowledgement of same.
The elated scholar who acknowledged that although she had not met Judge Ajibola interpersonally described the former judge of the International Court of Justice as a generous man whose generosity continues to amaze her. She saluted Judge Ajibola's industry and selfless investment a part of which she had benefitted.
Asked under what condition she preferred to study,Tiamiyu said " I find it very convenient to study in the morning immediately I wake up and the reading can last for like seven hours. I can't read if my brain is not relaxed...if I haven't slept. I don't stress myself".She revealed that she preferred secluding herself in empty classrooms and after each day's lectures, have a little fun in the hostel, sleep,wake up and start reading again.
The vision of academic and moral excellence of Crescent University, according to her, has made her to avoid distractions and has taught her to dress modestly. She also praised the university for religious tolerance saying that although she is a Christian, she had freedom to practise her religion without let or hindrance.
"I love courses that have to do with Biology or Microbiology but along the line, I had issues with Chemistry courses", she recounted adding that she particularly fell in love with aspects of Food Microbiology and Virology because of her interest as well as the interesting approaches employed by lecturers incharge. She said she was able to have good grades in all her courses because she devoted more time to reading courses she did not like than her favourite ones.