Former presidential aspirant, bother-in-law to IBB, Sunny Okogwu, dies in Abuja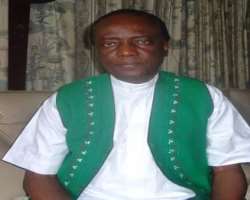 Chief Sunny Okogwu, a brother in-law to a former military ruler, Ibrahim Babangida, has died in a hospital in Abuja due to an undisclosed illness. Vanguard reports that Okogwu was the elder brother to Maryam, the late wife of Ibrahim Babangida.
He was businessman based in Kaduna with the title of Ojise of Asaba. The business man was also a former presidential candidate of the Republican Party of Nigeria in the 2007 presidential election.
The death of the Okogwu was reportedly confirmed by one Michael, who claimed to be one of the sons of the late philanthropist. "The death of Chief Sunny Okogwu is a great loss to the ordinary Nigerians, who benefited from his humanitarian gestures," a security guard told visitors at the deceased's ship house residence on Ilorin Road, Marafa Estate on Sunday, September 30.
"I have been with him since 1982 and he treated me like a son even though I am a Muslim. Despite my religion, he never discriminated against me. "We members of the Sabon-Gaya community in Chikun Local Government Area will miss him. He brought development to the community. We will never forget him."
President Muhammadu Buhari, has joined the business community in mourning the passing of the renowned entrepreneur and philanthropist.
Buhari in a statement by his special adviser, Media, Femi Adelina, sent condolences to family and friends of Ojise of Asaba, whose love and care for the poor and downtrodden remains historical, especially in Kaduna, where he spent most of his life.
The President recommended to other Nigerians the detribalised and cosmopolitan outlook of Chief Okogwu, who developed strong and meaningful relationships outside his roots, and graciously invested in the transformation of many lives.
He said, "President Buhari believes Chief Okogwu's business acumen also reflected in his large heartedness as he contributed generously to the development of communities across the country. "The President prays that Chief Okogwu would find eternal rest in the bosom of the Lord, urging his family to carry on with the legacies of the iconic businessman.