Lagos APC governorship primary: Buhari fails in last ditch effort to convince Tinubu to support Ambode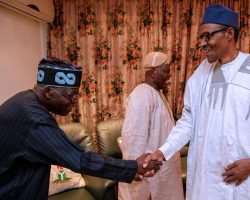 All is set for a battle of the political titans as the much-postponed governorship primary election of the ruling All Progressives Congress (APC) holds today (October 2, 2018) in Lagos. The gladiators are incumbent Governor Akinwunmi Ambode and former Commissioner Jide Sanwo-Olu.
The political godfather of the state, stalwart Asiwaju Bola Ahmed Tinubu, is sponsoring Sanwo-Olu for the contest after falling out with Ambode.
A reliable source close the Ambode camp told News express in the wee hours of this morning that last-minute efforts by both President Muhammadu Buhari – who as we reported yesterday afternoon, summoned Tinubu to Abuja – and the party's national Working Committee (NWC) to reconcile the warring parties, failed as Tinubu insisted on not supporting Ambode.
"We are deploying to the field," the source told News Express around 4am. Public sympathy is with Governor Ambode and we are confident that our party members, impressed with the good works of the Governor and realising the need for continuity, will give him their mandate to continue his good work."
The election will take place in 377 wards across 20 local governments of Lagos State.
Writing on details of the process, The Nation newspaper said this morning:
"Every card-carrying member of the party is eligible.
"There will be no ballot box and ballot paper. Party members will queue behind the posters of their preferred aspirant.
"The mode of the primary is "open direct primary", which involves open and physical counting of members on queue behind the posters of their chosen aspirants.
"They will be accredited by 9a.m. Election will take place by 12 noon. Members will show their APC Identification Card. No white slip will be accepted.
"Posters of the two aspirants will be held by their agents. After accreditation, party members will queue behind them."
The report quoted, State APC Chairman Tunde Balogun as saying yesterday: "They will be counted on the queue and recorded. After that, voting ends. The agents of aspirants will sign. Then, the results will be taken to the local governments, the final collation will be done at the state level."