The Nigerian Voice Odimegwu Onwumere Up For Best West Africa Journalist Award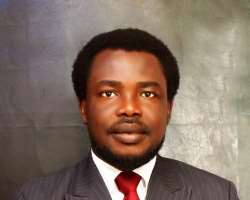 The Nigerian Voice journalist, Odimegwu Onwumere, has been named as a finalist for the West Africa Media Excellence Awards which recognizes journalists' published articles.
According to the Executive Director, Suleiman Braimah, 18 journalists made it to the final list for seven out of 14 categories, in a competition that received over 600 entries of outstanding stories from journalists across 12 countries in West Africa.
The entries which cover print, electronic and online media were received from about 250 journalists from over 150 media houses across the region.
The shortlisted finalists for WAMECA 2018 are:
Kingbewe Yao Hervé, Banuto (online), Benin
Justice Baidoo, Multimedia Broadcasting Limited, Ghana
Anthony Acarus Stephen, Power FM/TV), Liberia
Anthony Akaeze, TELL/ICIR, Nigeria
Manasseh Azure Awuni, Multimedia Broadcasting Limited, Ghana
Adam Alqali, African Newspage, Nigeria
Mame Diomma Dramé, Ouestafnews, Senegal
Odimegwu Onwumere, Nigerian Voice, Nigeria
Ridwan Karim Dini-Osman, GHOne TV, Ghana
Kemi Busari, PREMIUM TIMES, Nigeria
Sawadogo Afsétou, Sidwaya, Burkina Faso
Seth Kwame Boateng, Multimedia Broadcasting Limited, Ghana
Bayo Olupohunda, NAIJ.com, Nigeria
Nabaloum Abdel Aziz, Sidwaya, Burkina Faso
Richard Kwadwo Nyarko, Multimedia Broadcasting Limited, Ghana
Victor Ekwealor, Techpoint, Nigeria
Daryl Kwawu, Multimedia Broadcasting Limited, Ghana
Oladeinde Olawoyin, PREMIUM TIMES, Nigeria
The winners for the various categories including the overall best West African journalist will be announced at the Awards event on the 13th of October, 2018.
Winners will receive plaques, certificates and cash prizes. All finalists who are not winners in the various categories will also receive certificates of merit.
All 18 finalists will also be inducted as fellows of the MFWA's Journalism for Change Network and will be offered regular training opportunities both locally and internationally to enhance their capacity to influence positive change in society through journalism.
The West Africa Media Excellence Conference and Awards (WAMECA) is supported by MTN-Ghana, GCB Bank, Stanbic Bank and the US Embassy in Ghana. The event is also supported by several media partners across West Africa.
Editor's Note: The Nigerian Voice wishes 'our own' a successful outing. This will be another dream come true becaus your are courageous enough to conquer all your battles.