Borno APC aspirant denies defecting to PDP, insist that "I am still in the race".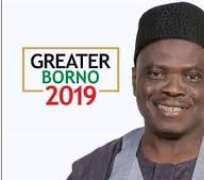 One of the major contenders for the gubernatorial ticket of All Progressives Congress (APC) in Borno State, Alhaji Idris Mamman Durkwa said he was still in the race.
Durkwa, who reacted to a statement credited to him on Sunday morning that he has defected to the Peoples Democratic Party (PDP) and have even been given the ticket to fly the flag of the opposition party at next year's gubernatorial election in Borno State, said it was a lie and the handwork of his detractors.
Durkwa, in a statement signed by the chairman of his gubernatorial campaign organisation, Alhaji Mala Othman said the latest attempt was one in the series of actions by his political opponent to ensure that he did not win the primary scheduled for Sunday.
He said he was shocked when his attention was drawn on Sunday morning to the fake statement purportedly claiming that he has defected to PDP and was no longer in the race for the APC gubernatorial ticket.
He said: "I am in this race to the very end and at no time contemplated defecting, even with the unfair challenges thrown at us."
He said it would be recall that "I have earlier drawn the attention of the general public to the underhand tactics deploy to ensure that I do not win the ticket of the party."
Durkwa had few days ago, in a statement, alleged that he had been denied access to the delegates.
He had alleged that: "Delegates fundamental rights of choice are being denied. They have been warehoused and restricted from meeting with aspirants so as to enable a level playing ground."
Also, in the statement, allegation was made that: "There is also a deliberate misinformation of our candidate to the good people of our party and the general public on his political aspiration."
He had equally: "Complaints of threats, intimidations and harassments from delegates who are supporters of our campaign group especially from Local Government Areas of Abadam, Ngala, Biu, Askira/Uba, Magumeri, Kukawa, Nganzai, Shani, Mobbar, Gwoza, Bama and Mafa have also been received and fully documented.
"It is also on record that State Chapter of our great Party have been unduly emasculated by the Borno State Government, where decisions of the Party is hijacked by the Government House instead of the Party secretariat. For instance, where some selected aspirants supported by the State Government were invited to Government House and party decisions made to the exclusion of some other aspirants."