Mama Taraba - Aisha Alhassan resigns From APC
Joins United Democratic Party (UDP)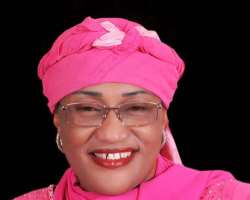 The Minister of Women Affairs, Mrs Aisha Alhassan, popularly known as Mama Taraba has withdrawn her membership of All Progressive Congress(APC).
In her letter of resignation, dated 29th Of September, she condemned the unfair treatment meted to her by APC by disqualifying her in the sreening without reasons. " To my dismay and disappointment, I was disqualified and declared 'not cleared' to contest by the National Working Committee of the party on Thursday the 27th of September 2018. Please note that no reason was given by for my disqualification to contest under the APC. I feel I was unfairly treated by the National Working Committee of APC and a grave injustice done to me by that action"
When The Nigerian Voice contacted the former Minister, her assistant, Hon. Maina, confirmed the story and added that her Principal has been wrongly treated by APC. He went further to state that Mama Taraba has already found a welcoming arm of United Democratic Party (UDP).