Sen. Adeleke Rejects The Rerun Election, Describes It As A Mere Charade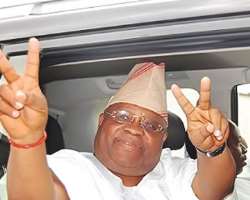 Sadly, Adeleke, the candidate of the Peoples Democratic Party 2018 governorship election in Osun State, have rejected today's re-run election as a "charade" which must not be allowed to stand.
Mr Adeleke's position, disclosed in a statement by his campaign office Thursday afternoon, was hinged on the widespread reports of voter intimidation and other forms of violence which marred the re-run election, especially in Orolu Local Government Area.
"The whole world is witnessing a charade in the name of an election, a deliberate effort at the imposition of a discredited leadership on the suffering people of Osun State through undisguised brutal force," the campaign said. "Applying all standards, today's supplementary poll is a non-event as all norms of the electoral process are violated."
There have been reports that the re-run election has neither been free nor fair since polls opened across the four local government areas identified for the exercise after the main process on Saturday was declare inconclusive.
Amongst those who have reported violence from security agencies and suspected APC thugs are journalists, observers and voters believed loyal to the PDP.
Mr Adeleke came first in the election on Saturday, but his thin margin of just 353 votes over his closest rival Gboyega Oyetola compelled INEC to declare the election inconclusive and ordered a re-run among the participating parties. About 2,637 out of 3,498 registered voters collected their voters' cards and would be eligible to participate in today's exercise across four LGAs.
Voting is scheduled to close at 2:00 p.m. across the local governments, which include Orolu, Osogbo, Ife-North and Ife South