Nigeria Needs Knowledgeable, Healthy, Responsible and Digital President --- Saraki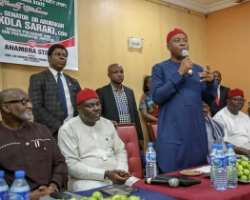 The Senate President of the Federal Republic of Nigeria, Dr. Bukola Saraki has asserted the apparent fact that the country currently needs a president who is educated, knowledgeable, healthy and hearty, digital and most importantly, responsible, so as to lift this nation from the quagmire it has been plunged into.
The 3rd citizen of the country stated this in Awka, the city of Anambra state when he visited the members of the People Democratic Party in the state to seek their support in the forthcoming presidential election in the country.
He said that Nigeria as a nation is experiencing a serious retrogressive move, as she is currently being debilitated by a plethora of problems, and thus recommended that it can only take a well educated, sound, knowledgeable and responsible leader to emancipate the country and restore her lost glory. He therefore solicited the indispensable support of the PDP faithful in the state as well as that of the public to make a reality, his 2019 presidential ambition, so as to speed up the developmental wheel of the country and make conditions better for her citizens, even as he further urged them to shun sentiments and vote people with regards to their qualification and leadership prowess.
In their separate speeches, the state chairman of the People's Democratic Party in Anambra, Mr. Ndubuisi Nwobu, the former Senior Special Assistant on Public Affairs to former President Jonathan, Dr. Doyin Okukpe, and the PDP gubernatorial aspirant in the immediate past governorship election in Anambra state, Hon. Oseloka Obaze, all expressed optimism in the landslide victory of the party in the 2019 general election and also charged the people to be meticulous in voting their leader in the forthcoming election to avoid enslaving the country for the another four years.
Other dignitaries who graced the occasion include: Hon. Dr. Harry Oranezi (a former House of Reps member and Saraki's Campaign DG in the South East); Captain Idris Wada, (former governor of Kogi State); Hon. Obinna Chidioka (member representing Idemili North and South Federal Constituency in the National Assembly); Hon. Chidi Onyemlukwe (the party's gubernatorial running mate in the November 2017 Anambra governorship election); Hon. Onyebuchi Offor (the Minority Leader in the Anambra State House of Assembly, among others.