Adeleke gives conditions for participation in Osun rerun election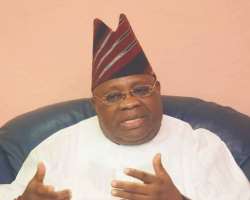 The candidate of the Peoples Democratic Party in the gubernatorial election in Osun state, Senator Ademola Adeleke has issued certain condition that must be met if he would partake in the rerun election.
In a statement by the Director Media and Publicity, Mr Olawale Rasheed, the PDP said he would participate in the election if the conditions are met.
According to him, "Card reader must work and there will be no election without card reader. We will not accept usage of incident forms; card reader must work for any election to hold"
"International observers must be allowed in all the seven polling units. INEC should stop unholy, ongoing meetings with Governor Rauf Aregbesola"
"Ongoing arrests and intimidation of PDP leaders should stop. Vote buying that is ongoing now should stop."
"Access codes to Voters register already given to APC members in Orolu rural areas should be withdrawn. INEC should stop colluding with APC and be truly transparent and unbiased".
"Security agencies should not serve partisan interest of APC. They should simply maintain law and order."