Osun Election Result Update: Senator Ademola Adeleke Leading Other Candidates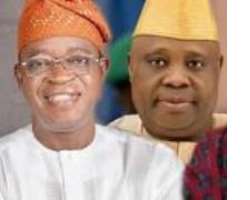 The governorship candidate of the Peoples Democratic Party in Osun State, Senator Ademola Adeleke, is leading the candidate of the All Progressives Congress, Alhaji Gboyega Oyetola in the total number of votes scored in the results announced so far.
Out of the results of the 15 local government areas announced so far, Adeleke polled 126,475 votes while Oyetola trails him with 110,775 votes.
The results of the remaining local governments are being read but supporters of the PDP candidate have claimed victory and are celebrating in front of the INEC office in Osogbo where the results are being announced.
Below is the result collated from some Local Governments of Osun State;
| | | | | | | | |
| --- | --- | --- | --- | --- | --- | --- | --- |
| LOCAL GOVT AREAS | ADP | APC | PDP | SDP | | | |
| AYEDAADE | 1654 | 10861 | 10836 | 2967 | | | |
| | | | | | | | |
| AYEDIRE | 166 | 5474 | 5133 | 2396 | | | |
| | | | | | | | |
| ATAKUMOSA EAST | 629 | 7073 | 5218 | 2140 | | | |
| | | | | | | | |
| ATAKUMOSA WEST | 718 | 5019 | 5401 | 1570 | | | |
| | | | | | | | |
| BOLUWADURO | 858 | 3843 | 3779 | 1766 | | | |
| | | | | | | | |
| BORIPE | 1137 | 11655 | 6892 | 2730 | | | |
| | | | | | | | |
| EDE NORTH | 758 | 7025 | 18745 | 1380 | | | |
| | | | | | | | |
| EDE SOUTH | 357 | 4512 | 16693 | 855 | | | |
| | | | | | | | |
| EGBEDORE | 636 | 7354 | 7231 | 2367 | | | |
| | | | | | | | |
| EJIGBO | 592 | 14779 | 11116 | 4803 | | | |
| | | | | | | | |
| IFE CENTRAL | 1053 | 6957 | 3200 | 20494 | | | |
| | | | | | | | |
| IFE EAST | | 2447 | 1823 | 12045 | | | |
| | | | | | | | |
| IFE NORT H | 745 | 6527 | 5846 | 5158 | | | |
| | | | | | | | |
| IFE SOUTH | 561 | 7223 | 4872 | 6151 | | | |
| | | | | | | | |
| IFEDAYO | 176 | 3182 | 3374 | 1377 | | | |
| | | | | | | | |
| IFELODUN | 2834 | 9882 | 12269 | 1970 | | | |
| | | | | | | | |
| ILA | 183 | 8403 | 8241 | 3134 | | | |
| | | | | | | | |
| ILESHA EAST | 1275 | 9790 | 8244 | 3720 | | | |
| | | | | | | | |
| llESHA WEST | 2363 | 7251 | 8286 | 2408 | | | |
| | | | | | | | |
| IREPODUN | 2564 | 6517 | 8058 | 4856 | | | |
| | | | | | | | |
| IREWOLE | 1915 | 10049 | 13848 | 1142 | | | |
| | | | | | | | |
| ISOKAN | 682 | 7297 | 9048 | 3460 | | | |
| | | | | | | | |
| IWO | 16125 | 7644 | 6122 | 4153 | | | |
| | | | | | | | |
| OBOKUN | 663 | 7229 | 10869 | 1907 | | | |
| | | | | | | | |
| ODO OTIN | 1112 | 9996 | 9879 | 2941 | | | |
| | | | | | | | |
| OLAOLUWA | 2194 | 5025 | 4026 | 2104 | | | |
| | | | | | | | |
| OLORUNDA | 1409 | 16254 | 9850 | 7061 | | | |
| | | | | | | | |
| ORIADE | 1124 | 9778 | 10109 | 2265 | | | |
| | | | | | | | |
| OROLU | 338 | 5442 | 7776 | 2043 | | | |
| | | | | | | | |
| OSOGBO | - | - | - | - | | | |
| TOTAL VOTES | 44,921 | 224,488 | 236,784 | 111,363 | | | |
| | | | | | | | |