Delta Governor Empowers 600 Youths In Agriculture Through SEEFOR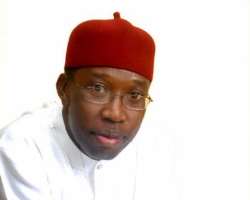 Delta State Governor's aide in the Agricultural Unit of the State Job Creation Office who doubles as the President-General, Igbodo Community, Ika North East local government area, Deacon Mathew Ikechukwu Okwaje, has commended the state governor for transforming the state through his administration's SMART agenda programme.
Deacon Okwaje, who gave the commendation in Asaba while speaking with journalists, said Senator Ifeanyi Okowa, had performed above expectations.
He described the partnership of his community with the Delta State Expenditure and Employment for Result (SEEFOR) Project as fulfilling, saying that Igbodo community have benefitted from the SEEFOR intervention for the purpose of giving the community a face lift.
Deacon Okwaje, who, however, called on youths in the state to wholeheartedly embrace agriculture in order to ensure food sufficiency in the state said that over 600 youths have been empowered through agriculture and skills.
The Igbodo Present-General reiterated that upon assumption of office as the PG in 2016, his executives conducted needs assessment in the community to be able to ascertain what were the most pressing needs of the community, adding that since the major occupation of his people was farming his people decided to opt for the construction of garri shops and renovation of Health Centre under the Community Driven Development (CDD) social approach of the SEEFOR intervention.
Deacon Okwaje stated that the economy of Igbodo community have improved as a result of the SEEFOR Project , explaining that the women in the area, who are predominantly garri sellers no longer sell their products under leaking roofs.
He said that the choice of renovating their Health Centre was aimed at ensuring that his people have access to qualitative and affordable health care services, just as he disclosed that efforts were on top gear for government to post health personnel to the facility.
The President-General lauded the World Bank and the European Union for Impacting positively on the state, particularly rural communities through the CDD social approach and sued for more partnership.
At Igbodo community where the Chairlady of the market spoke to newsmen, Mrs. Egbo Felicia, the Secretary of the market, Mr. Chikezie and a frontline community leader, Engr. Johnson Ogana, said that the SEEFOR Project had brought relief to the people of Igbodo community and thanked Deacon Okwaje for his foresight in driving development to Igbodo community.