IPOB leader Nnamdi Kanu is not in custody of the military, he is in London: Orji Uzor Kalu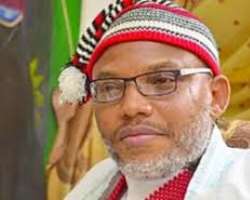 Former Governor of Abia state, Orji Uzor Kalu, has countered the impressions that the leader of the Independent People of Biafra (IPOB), Mazi Nnamdi Kanu, is in the custody of Nigerian military, but that Kanu is safe and currently in London.
He also dismissed the crises rocking the ruling All Progressives Congress (APC) over the nomination of candidates at the national, states and local government levels as usual occurrence in politics.
"Politicians agree to disagree in any political setting and for the development of the polity," Kalu said..
Kalu, who made the declaration when he visited former Military President, General Ibrahim Badamasi Babangida (IBB) to drum support for the second tenure of President Muhammadu Buhari, however, did not give details.
"Nnamdi Kanu is where I told you he is, he is in London. He is safe", former Governor Uzor Kalu told journalists after a closed-door meeting with the former President General Babangida at his uphill residence in Minna, Niger state capital on Tuesday.
Uzor Kalu said he was in Minna to woo former President Ibrahim Babangida on the second term of President Muhammadu Buhari "because virtually all the People's Democratic Party (PDP) Presidential aspirants had been coming to him for blessings."
On the outcome of the meeting which lasted nearly two hours, the former Abia state Governor said, "I have talked to him (Babangida) to allow Buhari finish his second term, we have discussed, he is thinking about it, February 16 is still a long way.
"Our discussion was positive it is blue and white," Uzor Kalu said, arguing however that all that Nigeria needed now was to build cohesion in the nation, "We need continuity of government and that is important that President be allowed to continue after 2019."
According to Kalu, "Buhari is the head of government he has played four years he is almost done with the first half as it is done in football. He has played 45 minutes, it remains 45 minutes, we should allow him to finish the game".
Kalu who appears not considering the pains Nigerians were going through and which has given rise to the clamour for a change in government said, "We appeal to Nigerians to allow him finish his second term, it makes more sense."
The former Abia state Governor said he had also been soliciting for the support of other prominent Nigerians at home and abroad, adding that, "even foreigners" for the realisation of the second term Presidential ambition President Buhari.
He, however, declared that his campaign for the re-election of President Buhari had nothing to do with South-Eastern Nigeria getting the Presidency in 2023 or for his personal ambition of becoming the next President after 2023.
Kalu, one of the PDP decampees to the ruling APC further explained pointed out that the year, 2023 was still a long way and time would tell if he would vie for President or not then.
Meanwhile, Orji Uzor Kalu has described the crises within the ruling APC over the nomination of candidates as part of politicking.
According to Uzor Kalu, "The crisis is part of political development if there is no crisis there will not be political development. Crisis is what makes political development there must be crisis and there must be solution".
• Credit: Daily Independent