An African Earth warrior to attend the United Nations GeneralAssembly starting in September 2018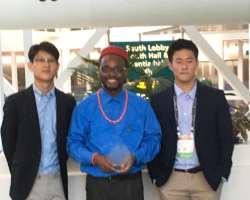 As the international community daily confront the renewed threat of Climate Change or Climate Disruption across the planet.
There seems to be a renewed confidence in some of the solutions that can address the climate crisis like the interest in renewables, with awareness being raised by many exceptional young minds (Youth) across the globe, who relie on the strength of the mantra " We are many and they are very few", the path to making earth green again is being paved.
One of those young minds is an African who argues that mankind must make sure that climate actions taken must be mightier than the power of devastation that climate crisis inflicts.
Gbujie Daniel Chidubem is his name, though one just has to look at him again after seeing his resumé and the global impact his organization is making, with a blessed childhood in Nigeria and coming from a third-generation-family that believe strongly that " every grandchild must elevate every aspect of life, in such a way to create a good name for the family, and such existence must be rooted in determination, hardwork, having a good heart and strong faith in the Christian belief, the Gbujies' believe this to be the recipe for Earthly success and prosperity. This is their family creed.
Gbujie is a Nigerian trained health personnel from southeastern part of the nation plus he is one of the respected green Ambassador, a status recently confer on him in June 2018 by the African Head of World Innovative Health Summit (WHISGREEN ) an International organization based in UK that engages in advocating for clean Energy, Water and Waste management.
All of which are to support and inspire vulnerable communities to become innovative and ecologically responsible.
He was invited for his outstanding global climate change advocacy action last week by President of UN General Assembly (UNGA) to attend the UN General Assembly High-level Plenary Meetings at United Nations Headquarters in New York, the 73rd session will open on 18 September 2018, and will be presided by Ms. María Fernanda Espinosa Garcés, of Ecuador.
The UNGA has 193 Member States of the UN represented by the Head of States or designated official who speaks on behalf of the head of their respective nations.
They discuss and work together on a wide array of issues that affects global citizens such as Climate Change, peace, security,and human rights.
The High-level meetings are convened by the Secretary-General H.E Antonio Gutierrez with the theme " Nelson Mandela Peace Summit: High-level plenary on Global Peace " and " Financing the 2030 Agenda for Sustainable Development".
Gbujie runs a global non government organization based in the US, they raise awareness about the impact of climate Change and the need to mobilize and take actions.
His organization has successfully planted thousands of trees and already in collaboration with a group Womens' Virtual Choir based in Sweden to plant much more trees.
Other projects engaged by the group include ; over 330 educational campaigns to primary, secondary and tertiary education centers across the globe, over 64 global climate Change training and conferences and over 800 climate advocacy presentations.
In addition to the UN General Assembly invitation,Team 54 Project got another invitation from Mr. Erik Solheim, UN Environment Executive Director, again confirming the group's influence within the climate advocacy circle.
Gbujie heads a delegation of 2 to this event which is part of UN General Assembly session with the theme; "FINANCING SUSTAINABLE LANDSCAPES: GLOBAL CHALLENGES AND OPPORTUNITIES".
Dignitaries attending the event include; Dr. Jim Young Kim, President of the World Bank , Ms. Amina J. Mohammed, Deputy Secretary-General of the United Nations and H.E. Mr. Paul Kagame, President of the African Union and President of Rwanda.
Gbujie who recently won an Eco-based award in the US from a Diaspora-based environmental group in the category tagged " Outstanding Global Impact/Exemplary Leadership" for 2018, is regarded as exceptional and has built an impressive reputation even as an young African.
This global multi-award winner happened to be the first African doctor to represent the World medical association at the COP event, while his organization "Team 54 Project" and members are creating an outstanding legacy within the climate movement.
He also established a multilingual platforms to reach out to other races especially his growing membership among the French and Spanish speaking nations, to help expand the message of a global action on climate Change at a global level.
"I see so much passion, talent and skills especially coming from youths of nations vulnerably affected by climate change, even our national coordinators and members have been involved in extraordinary ideas from Zambia to Pakistan, that often get me excited and very hopeful that we can make things better again for those coming behind this current generation". Gbujie said.
This young startup CEO was nominated along with others , as one of top emerging CEO of Not-Profit-group of African descent, he seem so preoccupied with finding solution to addressing the Climate Change crisis while working with others and partners to develop framework that can create opportunities for ordinary citizens.
One noticeable observation that may also explain the unique way his group have been impactful in a short period is the organization collaborative concept with other groups that share similar vision like parvati.org, Lets It Do World, Umuntu-Switzerland, Africa Climate Reality Project, and WHISGREEN. This collaborative effort seem to be one of the factors to their success.
The "All-inclusive concept" his organization believes in, holds the view that there is certainly something everyone brings to the table including NGOs and Government agency's and they have a role in his organization.
" Team 54 Project appreciates the partnership created and are looking out for more, we have collaborative culture within the organization because we know that shared purpose inspires and drives personal and collective capacity building which triggers a clear path towards achieving sustainable development goals".He said.
Gbujie insist that working hard to get global citizens educated on the climate science and why renewables is so valuable to the future existence of mankind should be priority for earth activists and a better understanding help fuel taking actions.
Indeed from the conversation with Gbujie, he represents the changing wave sweeping through Africa, and other emerging markets in which young people are no longer comfortable with the way the world is going and are totally actively changing the culture that fathers encourage, or did nothing about sadly most Africans leaders currently in power, expect for one or two have plunged their respective nations into chaos and economic stagnation by the terrible decision they make which often is guided by greed, nepotism, auninformed sentiments.
" Many young people are doing much greater work then myself on Sustainable Development Goals within and outside Africa, and quiet a few get global coverage and spotlight, while many don't get noticed. For those of us that choose to go over and beyond we do so because we want to be completely different from our fathers and mothers. We have better understand of the times we live in, rather than complain and seat on the fence we opt to take actions". Gbujie said.
He pointed out some few perspective that I couldn't refute, he explained that what young people need are, national or global platform to show what they can do, sadly those opportunities are not much and when few emerge billions have to contend for it, which makes the option of radicalism and negative vices attractive.
Then I asked him how does he view the global response to climate change and what is his honest global perspective on the way forward.
He replied by saying that his organization joining the movement was timely, because the destructive impact of climate change is felt generally, from the devastating heatwave stroke ravaging India, to the unending drought in subsahara Africa, and the unbelievable manifestation of hurricanes in the Atlantic zone, one of strong hurricane has reached southeastern part of the US North and South Caroline (Hurricane Florence) taking lives as it batters theses states.
Environmental disasters do not respect socioeconomic status, reglious bias , nations borders , tribes or race. It doesn't understand political ideologies, all it does are to inflict unprecedented destruction of properties and death.
Sadly he continued to pontificate that it is the poor nations and vulnerable target groups like children, women, elderly persons, people with disabilities, and debilitating patients that are disproportionately affected the most.
With scientific research showing that the climate crisis is now the number one existential threat to humanity today, still few ignorant people often fail to see that reality.
"We must together begin to confront this crisis it's really not a one man or one organization job alone so many view these unfolding environmental drama from the prism of climate justice they see it as an act of global injustice forced on ordinary citizens and they think demanding environment justice may well be the ideal path to resolving the crisis." He said.
Gbujie believes that the magnitude of the problem requires a more greater deliberation and would require everyone skills, talents and passion more than just the curbing of emissions campaign.
" Yes, I do believe in cutting emissions and I have gone much further to support the campaign for "Zero Emissions" but that just translates to taking a one mile step in the journey of a thousand miles. Therefore, we have to develop and establish new climate resilient socioeconomic system totally devoid of fossil fuel inputs and adopting the clean renewables concepts seems to support the goals ".Gbujie said.
His hope for the future comes from the way his members globally connect with one another and wonderful ways his team of coordinator and board are synchronizing climate actions across the globe with a conservative membership estimate of over 150,000 drawn from 169 nations, Team 54 Project is among the emerging not-profit-environment organization delivering on its promise to make Earth better for mankind.
The global impact of Team 54 Project is not in doubt, because the organization was invited to be part of the Global Climate Action Summit holding in San Francisco from 12-14 September 2018 which has been concluded.
Gbujie continued to enumerate some of consequences of Climate Change. He discussed the present wildfires crisis in California, he said he saw charred farm fields on his way to San Francisco US to attend a global conference and explained that the scene of the Black fields were once only seen in movies, but with a report from a Newspaper the San Francisco chronicles on 26th of July 2018 that the wildfires reported were ripping up roof tops of houses, flinging cars and power line towers into the air, they even called it a "massive fire tornado", and the firefighters agreed that all these were unprecedented events.
From my investigation, Gbujie was right, current wildfire crisis in California is indeed the worse in California history. With the complete evacuation of millions and death of over 7 persons who lost there lives while trying to contain the wildfires an estimated loss of 300,000 acres which is the size of a West African Nation or New York was reported.
"The climate crisis threatens humanity and it is rooted in our current dependence on fossil fuel a system that has outlived its usefulness and has no consideration for the long-term health and well being of people, let alone the land we live on, the water we drink and the air we breathe, hence the reason I went to Moscone center in San Francisco venue of Global Climate Action Summit to joining over 3,500 delegates to mount pressure on the various heads of government/representatives, CEOs, and stakeholders to take real action on climate Change by shifting to 100% renewables". Gbujie said.
This uncommon African believes that the individual solutions, like eating less of meat and more veggies , reducing carbon emissions by modernizing transportation/enforcement of regulations, and striving for zero waste are good but what is best for everyone is to work together towards a systemic change to the whole way our global or national economy is designed and how production works.
" Once we comprehend that the individual solutions alone aren't enough, then we can start the honest discussion on the factors needed to bring about climate resilient system". He said.
Gbujie believes that the world is ripe for a green revolution that takes political and economic power away from the known and unknown oligarchs who have knowningly or unknowningly created all these problems and return it to the people who are disproportionately affected by climate Change and want to live a better life.
" I must thank my wonderful friend Matthew Bonnstetter and the board, Dr Ezioma Gbujie my wife, the Team of coordinators in our organization,and our international partners that believe in our vision ". He said.
Gbujie downplayed his significant role in the organization he personally founded.
In conclusion, Gbujie symbolizes the hope currently shared across the world that the current generation of young people who now make up 69% of the global population are not ready to settle for less. His incredible deeper understanding of the climate science is outstanding, though he says the Ex-Vice-President of USA Mr Al Gore who taught and mentored him through the Climate Reality Project Leadership Corp program deserves the credit.
Unknowingly he has created a mini-climate movement of passionate global climate advocates who love, respect and follow him in taking global climate actions with the sole purpose to Make Earth Green Again.
Author; Bailey Jackman, is an Eco-journalist based in the San Francisco USA, whose interest center around highlighting the work of emerging climate advocates from vulnerable nations affected by climate Change.