5 Leadership Lessons From Nigerian CEO of General Electric, Lazarus Angbazo's Speech at Purdue University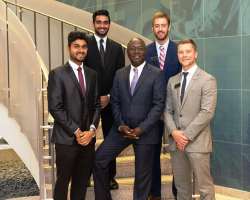 The Chief Executive Officer and President of General Electric in Nigeria, Mr. Lazarus Angbazo shared some important leadership tips with business students at the Purdue University, Indiana. He was guest speaker at a forum organized by the Krannert School of Management in September. Angbazo returned to share from his wealth of experience at the university, where he once served as an associate professor before he moved on to wall street where he held major positions in JP Morgan Chase and General Electric where he now leads the Nigerian operations and General Electric Power solutions in Sub-saharan African.
See the five leadership lessons for young career professionals contained in his speech.
1. Pursue learning and educational opportunities
"I left Nigeria with the promise of a prestigious scholarship from the Federal Government of Nigeria. However, shortly after my arrival in the United States, there was a change in government in a military coup. One of the first things they did was to cancel my scholarship and that of many others because of a very severe economic crisis in the country.
What kept me going was the knowledge that education and the opportunity for learning were my ticket to a life of opportunities. Fortunately, at that most crucial time, The University of Iowa came through unexpectedly with a very generous financial-aid package that allowed me to continue my American dream journey.
By the way every accomplished person I have studied has gone through a phase of uncertainty and feeling like they are groping in the dark. I certainly felt that way many times over the years. In fact, I still feel that way sometimes to be candid with you."
2. Never underestimate the role of mentors
"As it was with my educational journey, my initial career path was also driven more by opportunity than by some conscious planning. To be candid with you, academia was the furthest career path on my mind despite having pursued a PhD. Timing was not great as the US was going through a recession and quite frankly I also didn't have the green card as foreign student. I simply couldn't get a job on wall street after hundreds of resumes and dozens of interviews. Neither was I able to get beyond the initial rounds of candidate selections at the Young Professionals Program and Young Economists Programs of the World Bank and IMF respectively. But with the support and encouragement of mentors I changed focus. Like I said in my introduction, I found myself here at Purdue. I was hired as an assistant professor at this great campus and it felt like this would be home forever.
"Also, as I indicated, most of my early career path sprang out of unexpected opportunities mostly from mentors. Let me add with emphasis the need to be prepared for the opportunity when it comes. You also must not feel like you are out of luck if you don't know the right people (although who you know is also very important). But More important than knowing the right people is the need to be outstanding so those people would recommend you for the opportunities."
3. Build capacity to take on big challenges
"One of the most important skills you must develop now to prepare for those complex situations that will push you beyond your known abilities is the Capacity to Learn and the Capacity to execute and deliver. This requires a willing attitude, which in turn starts with humility. It requires vertical and horizontal learning... from superiors and subordinates and from peers. Another skill you must develop is Courage which we spoke about already, but I want to emphasize. You must get out of your comfort zone and not be afraid to venture out.
"On my first day at GE, my manager shared with me his secret for success – it was – to never shy away from the difficult assignments, because the paths less trodden are usually the paths with the most opportunities for growth. It would mean that you must be willing to deploy your best self and to go the extra mile. This comes with a certain kind of hunger that you must have no matter the career path you choose and no matter the scale of the business environment you operate in, --- whether it's big or small, --- local enterprise or a global multinational."
4. Be intentional about getting your goals
"At GE, I intentionally sought out the opportunity to participate at the International level. In my first day at GE I looked for the head of GE International Operations and convinced him of my interests and specific connections to the African continent. Beyond this, I volunteered my support to anybody in GE that wanted to know anything about Africa. When the opportunity came to support active projects in Africa I did so voluntary as a second job. I continued offering these support on an ad-hoc basis for almost 5 years before the opportunity came up for me to move to Africa on a full-time basis."
5. Nothing else matters but delivery, so deliver
"For us in GE, success is when the customer is truly happy. Make this your watchword. I would like to suggest a simple template you should remember when you think of executing for success. Without trying to be corny, I call them the 4Ds, and they have worked for me: a. Develop yourself (Continuous learning) b. Differentiate yourself(UniqueValue-add/ExtraMile)
c. Deliver on commitment (Say/Do Ratio) d. Demand more responsibility (Raise your hand/ Leadership Growth)"
Lazarus Angbazo is the President and CEO of General Electric in Nigeria.