Defection: Dogara is a paperweight politician without home base – APC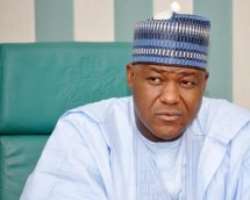 For the the All Progressives Congress, there is no need to lose sleep over the defection of  the Speaker of House of Representatives, Mr Yakubu Dogara, to the opposition Peoples Democratic Party.
Reason: Dogara is "a political paperweight in Bauchi,"  who is not on the ground in his home state.
This position of the party was enunciated by the APC National Publicity Secretary, Mr Yekini Nabena, said this in a statement on Thursday in Abuja.
While reacting to Dogara's defection to the Peoples Democratic Party (PDP), he said:
"We have received several media requests for a reaction to the purported defection of Dogara from the APC to one of the opposition political parties, as reported in the media.
"In reacting, I want to quote a recent comment by President Muhammadu Buhari, aptly sums up Dogara's reported defection: "the weakest people whose senses of expectation do not align with our vision have exited our party.
"Indeed, all politics is local; as a party, we empathise with Dogara on his despair over his political future given the fact that he is not on ground and a political paperweight in his home Bauchi State.
"In his emergence as Speaker, Dogara was merely used by his political master to achieve their selfish political ends at the time, they have since moved on to pursue their individual political aspirations and left Dogara in the cold," he said.
The APC spokesman, however, advised Dogara against his decision to re-contest his House of Representatives seat under the opposition party he was linked with because, according to him, a crushing and humiliating defeat awaits him.
He said as a party, the APC remained united and committed to its progressive ideology, urging APC faithful to consolidate on the party's strengths and collectively go into the 2019 general elections as a united and strong political fighting force.
This resolve, Nabena said, was critical to sustenance of the change agenda that the party is implementing for the benefit of ordinary Nigerians.
He said Dogara's reported defection, however, did not come to the APC leadership as a surprise, judging by his anti-party antics in the National Assembly.
He accused the speaker and President of the Senate, Dr Bukola Saraki, of exploiting "all available avenues to sabotage and undermine the APC-led executive".
He further noted that Dogara's anti-party stance, which allegedly enabled one of the opposition party's sole victory in Bogoro Local Government Area (Dogara's council) during the recent Bauchi South Senatorial by-election won by the APC, was another pointer, among several others.
The Speaker, House of Representatives,  Yakubu Dogara, on Thursday, said he was asked to beg for the ticket of the All  Progressives Congress.
An online newspaper, The Cable, reported that Dogara stated this when he hosted some of his supporters at his Abuja residence on Thursday.
There were reports on Thursday that the Speaker had joined the Peoples Democratic Party and obtained the party's nomination form for the House of Representatives' primaries.
According to the online report, Dogara said his supporters had presented the 2019 forms of the PDP to him and urged him to pull out of the ruling party.
He stated that his people would vote for him even if he contested on the platform of a zero party.
Dogara said, "Truly, I have decided that I will not contest election again. They said they would give me a ticket in the APC but that I must go and beg for it. I said I did not need the ticket. In politics, I have never gone to anybody's house to beg for a ticket.
"My ticket is my people. I have assured them that even if I run under a zero party, my people will vote for me. So long as it is Bogoro/Dass/Tafawa Balewa (constituency), even if we run under zero party; we will win by God's grace. We have thrived well in many political battles in the past and this one too, we shall overcome it. Nobody can threaten us or tell us that we cannot contest the election in a political party we spent our resources to establish; only God can stop us.
"I had heard your voices and the voice of the people is the voice of God. We are in politics to serve and not to be served. As I said, if it were for myself, I will quit because truly I am tired and even thought of stepping aside. But we must run an election so long as our people say so.
"I have seen the forms you brought. I don't know how you got it but I must thank you for this sacrifice. Left for me; I will appeal that you give me some time to go and consult further."
The Speaker stated that he had not told his supporters in the APC what he intended to do. Dogara also explained how he gave the APC the condition to pacify some federal lawmakers before he could reconcile with the leadership of the party.