Osun election: RIFA berates Osun PDP over Christian ticket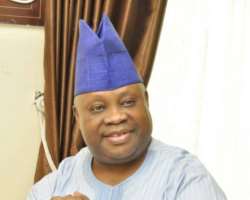 The Rights and Freedom Advocates (RIFA) in Nigeria has berated the Osun State chapter of the Peoples' Democratic Party (PDP) for fielding two Christians for the positions of the governor and the deputy governor for the September 22 governorship election in the State in spite of the large population of Muslims in Osun.
According to a press statement signed by the President of the organisation, Mallam Luqman Soliu, combining two Christians for the highest and second political offices in the state was not acceptable to Muslims.
In the statement titled: Osun 2018: PDP Promoting Divisive, Dangerous Agenda, Soliu said while other political parties reflected the reality and sensibilities of the Osun people by fielding Muslim-Christian or Christian-Muslim ticket, PDP decided to call the bluff of the Muslims by ignoring their overwhelming population and their resilience.
His words "The All Progressives Congress (APC) fielded Alhaji Gboyega Isiaka Oyetola with Mr Benedict Alabi as governor and deputy, Social Democratic Party (SDP) is fielded Senator Iyiola Omisore with Alhaji Lawal Azeez Olayemi as his deputy, Action Democratic Party presents Alhaji Moshood Adeoti and Mr Prof Adeolu Durotoye respectively. Another prominent party, African Democratic Congress is fielded Alhaji Fatai Akinbade and Justice Folahanmi Oloyede. But the Peoples Democratic Party (PDP) is presented Senator Jackson Ademola Adeleke as gubernatorial candidate with Mr Albert Adeogun as his deputy."
"Among the main political parties for the exalted seat, only PDP displayed its usual bigotry in the quest for power while other major parties balanced their nomination of candidates.
"It should be noted that both the PDP governorship candidate and his deputy are Christians in a state with substantial population of both the Muslims and the traditional worshippers.
"It could have been regarded as a mistake if the party did not play same bigotry politics in the past. Is PDP telling the voters that the party is for people of a particular faith or that its members from other faiths are inconsequential for its recognition?"
RIFA President said PDP underated the Muslims' sense of memory saying, the opposition party is merely taking Muslims for granted since they neither complained nor reacted against similar imbalanced arrangement in the past.