You Are A Gun-running, Expelled, Creek Bandit: Bokoru, Sylva's Media Aide Fires Back At Tiwei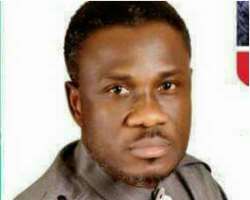 Julius Bokoru, Spokesman to former Governor of Bayelsa state Chief Timipre Sylva has responded scathingly to allegations of violence levelled on Gov Sylva by erstwhile party Chairman Mr Tiwei Orunimighe
Recall that Mr Tiwei who defected to the PDP had turned the heat on Chief Sylva during his defection on saturday, pronouncing the APC in Bayelsa state dead and allerging that Chief Sylva was a "violent man" with no "political force"
But Bokoru, responding to Mr Orunimighe's claims in Abuja called the former party chairman "an expelled mole"
" For starters, Mr Tiwei never defected from the APC as he had been expelled by the party a while ago for treachery and fifth-column activities. He had been hob-nobbing with the PDP for years and was merely a mole. The APC in Bayelsa state is stronger now that the moles have left."
Responding to the allegations of violence, Bokoru said "Isnt it ironic that a man who is believed to have masterminded the august 18 2017 shooting at the state secretariat which left three people dead will find the moral patronage to accuse another peaceful man of violence? A man who, until he dabbled recently to politics have been a gun-throthing, gun-running creek bandit"
Bokoru urged supporters of Sylva and members of the APC ro remain steadfast as the reign of impunity and cynicism in the state will soon be a thing of the past