Boko Haram Attacks A Military Base In Gudumbali :Borno Dep Gov Confirms the Attack
... As BHTs Over Powered the Military and Took Over the Base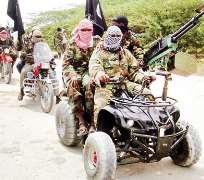 The Deputy Governor of Borno State, Hon. Usman Mamman Durkwa on Saturday confirmed that there was Boko Haram attack on Military Base located in Gudumbali, the Headquarters of Guzamala Local Government Area of the state.
Although, Durkwa insisted that he was yet to get the actual number of casualties from security forces, after he had conversation with the Police Commissioner, Mr. Damian Chukwu and the Brigade Commander of Military Forces in Monguno, but several soldiers were said to have fled the base after being over powered by the boko haram insurgents.
This followed last months' report of Boko Haram attack on a Military Base in one of the Communities of Guzamala LGA where over 48 soldiers were allegedly killed, but army authorities denied such report and described it as false.
Confirming the latest attack on the Military Base in Gudumbali that started Friday evening through Saturday, morning, the Deputy Governor said, the armed Boko Haram terrorist succeeded in attacking the military base and took control of the whole area while some soldiers fled from the Base to Maiduguri Saturday afternoon.
His words: " It is unfortunate to confirm to you that there was an attack by Boko Haram Extremists in a Military Base and other communities of Gudumbali.
"Thousands of the people who were displaced and spent some years in a resettlement camps in Maiduguri have returned back recently after the liberation of those surrounding communities by our gallant security forces.
" I regret to inform you that there was another attack by insurgents in Gudumbali, but I am yet to get the number of casualties.
" I just spoke with the Police Commissioner, Damian Chukwu and the Brigade Commander in Monguno, both confirmed to me that the attack actually took place, and our security forces were on top of the situation". Durkwa said.
He however called on the people of the state not to panic, as the state government in collaboration with security agencies and members of the Civilian Joint Task Force, CJTF were doing everything possible to restore peace in the affected areas and the state as a whole.
Meanwhile, unconfirmed sources said, quiet a number of Boko Haram terrorists, security operatives and residents both suffered casualties in the attack and either the military or police or CJTF gave any statement on the attack as at the time of filing in this report Saturday evening.