BUA Group to Set up Cement Plant in Ebonyi State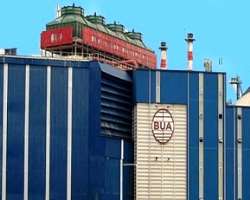 The Group Executive Director of BUA Group, Mr Kabiru Rabiu during a visit with his team to the Government House, Abakaliki on Wednesday September 5, said it plans to exploit the natural resources in Ebonyi state by first setting up a cement plant in the state.
Mr. Rabiu said that the drive for its plan was due to the huge deposit of limestone which was high in quality and coal for necessary energy in cement production, which the state is blessed with.
The Group Executive Director said that it was also important for all value chain created in cement industry such as block making, employment generation, housing and infrastructure.
He noted that NigerCerm plant was the first host cement plant in the country but regretted that the plant had not been in operation to bring more development to the entire South- Eastern states and the country.
Rabiu said; "Cement is a lucrative business and the huge deposit of limestone which is high in quality and coal, necessary energy needed for cement production are strategically located and positioned among neigbouring states which take advantage of many markets.
"Ebonyi naturally is a market of itself to exploit and a large consumption is going to be taken by the zone.
"We want to set up a cement plant here so that the South-Eastern markets will benefit. "
He said that the BUA cement investment in Okpella in Edo for South-South region and in Sokoto State for the North-West among other developmental activities would benefit the country immensely.
Rabiu, who was encouraged by the state government in its plans, expressed satisfaction by its location, quality and volume of limestone for cement production in the state.
Governor David Umahi, who cited some coal deposit located at Ohaukwu and Afikpo Local Government Areas of the state, told the team that enough energy from the deposit were on ground to harvest and start with.
Umahi said the country could change its narrative on road construction and bridges among other construction, if it thinks through using concrete in building in the country.
He added that that the state would develop with more cement plants.
Source: TVCNEWS