Borno State Cholera Outbreak : 14 Dead, 8 Positive Cholera Cases,108 Diarhea Cases , 200 AWD Cases Treated and Discharged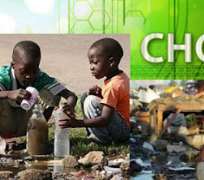 The Borno State Commissioner of Health, Dr. Haruna Mshelia has confirmed that 14 people were reported dead from 13 LGAs of Borno State that were hit by the out break of acute water diarrhea and cholera cases.
He said that 200 cases of AWD have so far been treated and discharged at the emergency cholera treatment centers established at strategic areas to control the diseases.
Briefing journalists Wednesday at the Borno State Public Health Emergency Center located along Damboa Road Maiduguri, he added that although the 14 death cases was reported but not all the cases were from cholera or acute water diarrhea.
He said the death could be from other cases outside acute water diarrhea or cholera as autopsy was not conducted on the dead persons.
The commissioner noted that the 8 cases were forwarded for test to the national laboratory health center in Abuja last week and they were later confirmed to be positive while rapid treatment centers and team of experts from the state ministry of health and other health partners including WHO were going round places to monitor and respond instantly to all suspected cases that may be reported from the communities.
He explained that areas worst hit in the Maiduguri metropolis include Madinatu, old Maiduguri, Bolori and few others as well as Chibok LGA while cases of acute water diarrhea that have been reported have increased from 10 LGAs to 13 LGAs.
He called on the media to disseminate the Heath guide and water sanitation campaigns and advocacy to the people through their platforms and educate the public in the danger posed by the faulty environment and lack of hygiene during the 8 weeks heavy rainfall.
Dr. Mshelia assured that the situation will soon be brought under control and end the epidemic through improved water supply system at IDPs Camp and host communities, communication and social mobilization to activate full scale surveillance and conduct rapid responses to all cases by NGOs and other partners that established cholera treatment hospitals and centers across the state for the treatment of cholera and acute water diarrhea cases.
He said other cases would be handled by a committee assigned to move round places with ambulances and convey cases to the nearest health center as government is on top of the matter.