NIGERIA: THE NEED FOR CREDIBLE POLLS IN 2011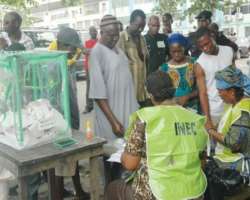 PHOTO: VOTERS AT A POLLING STATION.

One of the big challenges confronting elections in Nigeria is the credibility question. Most of the country's election beginning from 1960s has been marred by electoral frauds. In 1979, during the second republic, there were lots of political upheavals occasioned by heavy rigging and manipulation of election results. Have you heard about the crisis between Omoboriowo and Ajasin that nearly wiped out the people of Ondo state? The phenomenon called electoral malpractices has been the major threat to the credibility of the country's general election.
One of the excuses advanced for the cancellation of the June 12, 1993 presidential election by Babangida administration was hinged on heavy electoral malpractices and rigging. The same electoral frauds were recorded in the 2003 and 2007 general elections. These electoral frauds have often led to mistrust and apathy in the outcome of election results, thereby creating animosity, ill-feelings and mutual suspicion among the electorates.
Electoral malpractices or frauds or irregularities are practices perpetuated by politicians, their agents as well as the agents of government to undermine the electoral laws in order to give way for certain people that would place them above the other in order to forcibly achieve electoral victory.  It is an electoral cheat or favour to get unnecessary electoral advantage at all costs. These malpractices are often committed after an inducement in form of bribe or loyalty to secure victory by hook and crook.  Some of these electoral malpractices include:
·ã€€ã€€ã€€ã€€ã€€ã€€ã€€ã€€ Stuffing of ballot papers
·ã€€ã€€ã€€ã€€ã€€ã€€ã€€ã€€ Inflation of election results
·ã€€ã€€ã€€ã€€ã€€ã€€ã€€ã€€ Declaration of false election results
·ã€€ã€€ã€€ã€€ã€€ã€€ã€€ã€€ Forcing some one to vote against one's wish
·ã€€ã€€ã€€ã€€ã€€ã€€ã€€ã€€ The use of under age for voting
·ã€€ã€€ã€€ã€€ã€€ã€€ã€€ã€€ Stealing and hijacking of ballot boxes
·ã€€ã€€ã€€ã€€ã€€ã€€ã€€ã€€ Proxy voting
·ã€€ã€€ã€€ã€€ã€€ã€€ã€€ã€€ Possession of sensitive electoral material before the election time
·ã€€ã€€ã€€ã€€ã€€ã€€ã€€ã€€ Declaration of election results while voting is still in progress
·ã€€ã€€ã€€ã€€ã€€ã€€ã€€ã€€ Voting beyond the stipulated time limit
·ã€€ã€€ã€€ã€€ã€€ã€€ã€€ã€€ Canvassing for votes at the polling venue
·ã€€ã€€ã€€ã€€ã€€ã€€ã€€ã€€ Molestation of the electorates at the polling station while the election lasts
·ã€€ã€€ã€€ã€€ã€€ã€€ã€€ã€€ One man, many votes, etc.
Depending on the magnitude of the electoral offences, each of the aforementioned electoral misconducts is capable of undermining voting and if not properly checked, will certainly affect the outcome of the election. Therefore, it is the duty and responsibility of impartial government, Independent National Electoral Commission (INEC) and their agents to checkmate the electoral frauds so that at the end of the day, the true choice of the people is elected and declared as winner. This will go a long way in preventing crises and litigations that may jeopardize peaceful atmosphere required for the progress of the country.
Conversely, the effort of the government to check electoral malpractices can be complemented by her citizens who are also in position to avoid being used to perpetuate electoral frauds for their selfish and primordial interests should understand that they do not need to do so if really they mean to serve the people. The past records and manifestoes of every person aspiring to the position of leadership should be enough to sell the candidate to the electorates. Purchasing dangerous weapons for idle youths to fight for one's electoral victory has nothing to do with democracy except for demo-crazy. As a result of some people's crude desire to ascend to leadership by force, they employ all sorts of coercive means just to get what they want through boycott of the laid down rules.
The government some time does not help matters when it comes to the issue of electoral frauds and violence. The interest of government has in many cases than one undermined free and fair electoral contest in Nigeria. If we all allow the interest of the country to take precedent over and above individual's personal interests, credible election would be achieved. People should also avoid desperation to win election at all costs. If one does not win today, one may win some time next time. Given the proper education required, democracy is such that people do not need to be at each other's throat for election to be won and lost. Because the youths are deprived of the required education and information, they become vulnerable and susceptible to being used for electoral malpractices and violence. Same thing goes to the politicians who engage the supposed leaders of tomorrow in violent act for their own interests.
Experience has also shown that the so called foreign observers of Nigeria's elections have also contributed in non-attainment of free and fair election in the country. Some of these observers have certain interests they would like to defend. What about the media lopsided coverage of election proceedings? In their attempt to defend and protect the interest of media owners, election reports tend to be diluted before it is disseminated to people. The issue of money politics in Nigeria is another cankerworm that has always threatened the country's free and fair election. Those who have no focus and agenda on why they want to lead others normally make use of their stolen money to induce electorates in order to buy their conscience for votes. This type of negative attitude is against free and fair election.
What about the activities of the judiciary that deliberately connive with dubious politicians to issue court injunctions restraining the announcement of election result? Many people have used their influence, their money and their political power to change the cause of justice in their favour. Thus, what we some times have in this country is not the rule of law but the rule of influence, the rule of money and the rule of political powers. These are the various challenges before the 2011 general elections, which should be tackled heads on. When Mr. President Goodluck Jonathan went to France in the first week of June 2010, he assured the world that he would ensure credible election in 2011. That is as far as he is concerned. It is left for other stakeholders such as the media, the electorate, the judiciary, the INEC and the politicians to play the rule of the game by also making and fulfilling pledge for credible election in 2011. This is because it is only by achieving free, fair and credible election that Nigeria and Nigerians can have their desired leader who has fear of God and believe in equity, justice, transparency and development. Incidentally, these are the cardinal principles of Governor Ibrahim Shekarau of Kano State.
There is no doubt that Nigeria requires a credible, detribalized, honest and sincere President in 2011. This is why people have been calling on Malam (Dr) Ibrahim Shekarau to participate in the 2011 presidential poll. His various pedigrees are legendary and credible enough to ensure his victory. We however do not rule out envy, jealousy, hatred and animosity on the part of the oppositions against these calls. These attitudes are expected in a society where greed, avarice, sentiment, desperation and primordial interest exist. But Nigerians should understand the fact that they cannot continue to recycle leaders that have brought the country into her present messy situation and made people's lives miserable in spite of the available resources.
In conclusion, Nigerians should begin to redefine their future by looking at a leader that can truly stand for them in terms of economic revival, employment generation, and political stability, and social rejuvenation, ethnic and religious tolerance. This is why the man, Malam (Dr) Ibrahim Shekarau should simply strike our mind. Thank you all. God bless Nigeria and Nigerians. May He accept people's choice of Malam (Dr) Ibrahim Shekarau as Nigeria's President in 2011. 
Saka Raji Audu writes from Kano - email: [email protected]
 
Disclaimer:

"The views/contents expressed in this article are the sole responsibility of the author(s) and do not necessarily reflect those of The Nigerian Voice. The Nigerian Voice will not be responsible or liable for any inaccurate or incorrect statements contained in this article."
Articles by thewillnigeria.com