Buhari's Re-election: Nigeria braces for even darker times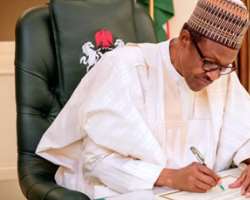 The World Bank recently released astonishing official figures to show the worsening poverty level in Nigeria - the worst in the world - under Buhari's directionless and visionless leadership. Official facts and figures from the US State Department showed that Nigeria is sinking with corruption under a cast of Buhari-led neophyte actors. British Prime Minister, Theresa May, told a beleaguered audience in South Africa this week that Nigeria has the highest number of poor people in the world.
The United Nations raised a similar alarm about the worsening poverty level in Nigeria amid corruption at every level of government under the Buhari-led Federal Government. Corrupt men and women are often given a clean bill of health once they change boats to seek protection in the ruling party and they are welcomed with open arms in his desperation to remain in power which makes this evil regime one vast empire of corruption. Ironically, this is a man and a government purportedly prosecuting an anti-corruption war. But has any sane person asked the rationale behind his desperation to return to the Villa amid these abysmal failures?
Do our people need an implant of the sensory data to foresee more dangers on the horizon? Prices of goods and services have skyrocketed. Buhari jets out of Nigeria at the drop of a hat whenever he or any member of his immediate family falls sick while our health centres back home continue to undergo monumental decay of Greco-Roman proportions. This is heart-rending! On what basis is this man seeking re-election? On what basis is the impoverished citizenry canvassing support for this man with all the trademarks of failed and visionless leadership? Many souls have been lost via mindless killings, forced disappearances in the hands of Buhari-backed marauding militant herdsmen.
Opposition voices have been silenced by instruments of coercion while the once vocal voices have shouted themselves hoarse and have been suddenly hushed into silence. We are doubtless in perilous times as the Nigerian Ship of State sails dangerously in stormy waters and about to hit the rocks. We gave this warning before in 2014 in the build-up to 2015 presidential election but were never heeded by a tribe of stiff-necked people and the country is bracing for even darker times.
Iyoha John Darlington wrote from Turin, Italy
Disclaimer:

"The views/contents expressed in this article are the sole responsibility of the author(s) and do not necessarily reflect those of The Nigerian Voice. The Nigerian Voice will not be responsible or liable for any inaccurate or incorrect statements contained in this article."