El-Rufai kicks Tinubu out of APC NEC meeting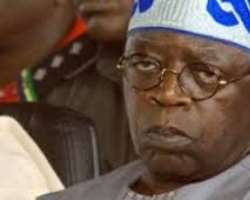 The All Progressive Congress [APC] meeting of the National Executive Council [NEC] held Thursday may have resolved on certain hairy issues threatening to disunite the party but it also showcased a glimpse of trouble brewing within the hierarchy of the party.
This is as information available to 247ureports.com indicates that there appears two concrete factions within the APC which comprises on the core northern group led by the governor of Kaduna State, Nasiru El Rufai and the South West group led by the strong man of APC, Bola Tinubu. The war between the two groups had been a cold one – at least until yesterday at the APC NEC meeting.
As the NEC meeting was about to kick off yesterday, the supposed leader of the APC, Bola Tinubu arrived the secretariat with his supporters and entourage. Asiwaju Bola Tinubu, came into the premises around 10.56am in a black Jeep.
Tinubu was readying to make his entrance into the meeting venue before the arrival of President Muhammadu Buhari when Governor Nasiru El – Rufai noticed Tinubu. El-Rufai rose out of his seat and immediately raised a protest to the director of administration of the APC in his native Hausa language – charging that Tinubu must not be allowed entrance into the meeting venue because he is not a member of the NEC.
A reliable source who attended the meeting explained that "the governor was not at home with Tinubu's presence. That is why he protested to the Director of Administration on why they allowed a non-NEC member like Tinubu to be in attendance."
It took the quick reaction of Tinubu supporters to quell the situation from escalating beyond a gentleman's protest. One of the Senators from the South West who was present at the meeting venue quickly rushed to Tinubu to impress on him that El Rufai had requested for his ejection from the meeting venue. The senator escorted Tinubu to the one of the empty offices inside the secretariat where he seat by himself for the duration of the NEC meeting.
Bola Tinubu had arrived the meeting venue to push for direct primaries for all aspirants while the El Rufai led group were in support of indirect primaries. The party resolve to conduct indirect primaries for all positions except for the presidential position which will be direct primary. 247ureports.com