NYSC, national integration and diasporan unity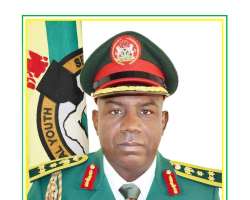 For two weeks in June 2018, yours faithfully sojourned in the United Kingdom on my annual vacation and an integral aspect of my vacation workload was to conduct empirical researches and a cocktail of interview sessions with some Nigerians.
Those Nigerians were basically and randomly chosen to reflect the diverse ethno-religious affiliations that characterize Nigeria.
The core question asked was to ascertain the contribution that their involvement as former participants in the National Youth Service Corp scheme has helped shaped the horizone of their world views (weltanschauung) of integrating fully and in real time with members of the different socio-cultural communities from Nigeria who reside legitimately and are engaged in legitimate tasks in the different cities of the United Kingdom and beyond. The inquiry was motivated by the generally agreed consensus that Nigeria now has a serious challenge of divisiveness which can be resolved if national integration is mainstreamed into our daily way of life as citizens of Nigeria in Nigeria and wherever we find ourselves around the global community of humanity. There is also the consensus that Nigeria over the past few decades have witnessed progressive brain drain of Nigerian graduates who had moved to overseas nations around the World, settled and are in most cases very successful in their professional careers. The study i did was primarily to ascertain the place of the NYSC's experiences for these kinds of Nigerians based abroad with specific reference to how they relate with each other so as to provide possible guide to solving the ever expanding issues of divisiveness amongst Nigerians living in our homeland. In going about this task, yours faithfully took over one week to search for the resource persons willing to participate since it is more of a personal patriotic initiative to use an institutional example to try to find panacea to our troubling times.
Luckily, Emeka Nwaobasi Okonkwo, James Musa, Bankole Adebowale and Smart Odion were the persons that yours faithfully interviewed in the different areas around London, the internationally acclaimed tourism capital of Western Europe.
Emeka who was the first of the four interviewed told this reporter that he took part in the NYSC scheme over two decades ago even as he narrated how his foray in search of higher post graduate qualifications took him to Manchester City in the United Kingdom over 17 years back.
"A factor that shaped the fundamentals of my outlooks on life and social interactions amongst the diverse people of Nigeria remains the lessons of constructive and positive national integration I learnt whilst serving in the then capital of Borno State of Maiduguri."
"My one year stay in Maiduguri brought me face-to-face with virtually persons from approximately 45 percent of the ethno-religious configurations that make up contemporary Nigeria.
NYSC gave me the practical lesson on how to relate, interface and socialize with persons of diverse affiliations as people united under one nation by God.
James Musa, unlike Emeka who hails from Imo state, comes from Gombe but met his wife whilst serving in Obolo Afor in Enugu state who has now given him three beautiful children.
Mr. James who spoke with this writer over some Cups of Coffee in Oxford Street Central London, was full of praises in the area of national integration that we got about fifteen years back in NYSC." He further narrated to me how he and his wife are top members of the diaporan community in the United Kingdom and how they have remained committed and profoundly faithful in their zeal to ensure that the NYSC is not allowed to die.
For the NYSC which he attributed to the quality interactions he now engage with many Nigerians from the different communities living in East London.
"I think am deeply appreciative of the times we spent serving within the framework of the NYSC scheme there is positivism in the pragmatic lessons.
Bankole Adebowale spoke with this writer in company of his wife who he told me served in Makurdi, Benue State about ten years even as he did his twelve calendar months service in Calabar, Cross Rivers State.
Bankole told me that it may have been the commonality of their lessons imbibed during their respective NYSC schemes that fastracked their union.
The wife, Mrs. Aisha who also spoke informed this writer that they met at the post graduate campus of a university in Scotland and started exchanging ideas on what was learnt or otherwise during their 'splendid' periods of NYSC.
"Now I no longer see a person from outside of my Igala Community in Kogi state as a strange person.
Mr. Bankole told this writer that he has rich recollections of how most of the people he met whilst serving in Makurdi, Benue State were more than willing to embrace him as an uncle just as he disclosed that his beautiful memories of his service years have positively made him a patriotic Nigerian who has consistently thought about the positive things his family will bring on board to contribute to civilization and sustainable development in Nigeria.
Mr. Bankole further recalled that the Director-General, National Youth Service Corp (NYSC), Brig.-Gen. Suleiman Kazaure had urged corps members to actively participate in skills acquisition trainings in order to make them self-reliant.
Kazaure he told me gave this charge in an interview with the News Agency of Nigeria in Sokoto. To him, this initiative makes a lot of sense in such a way that a way has been found to marry the virtues of national integration with skills acquisitions which in effect makes economic empowerment of the youth very integral in the scheme of things at an institutional level.
"More than eight skills acquisition programmes were designed for corps members in collaboration with some agencies to facilitate the training programmess," the director-general was quoted by Bankole to have said. Bankole told me that he has consistently followed development in NYSC closely even from his base in London.
Kazaure he said noted that the skills acquisition trainings were introduced to promote self-reliance and encourage entrepreneurship to enhance the nation's economic growth.
He, however, cautioned corps members against unnecessary travellings and urged them to be disciplined in their relationships with the NYSC authorities and their host communities.
The director-general said that he was at "Wamakko Orientation Camp" to ensure corps members' well-being and motivate them for the lined up programmes, aimed at preparing them for the future challenges.
Kazaure advised them to put the nation's development first; promote virtues and downplay sentiments in the interest of national unity. Bankole told this writer that he heard it on good authority that there has been impressive Improvement of the state of the various orientation camps nationwide. Under his watch all the hostel in all NYSC Orientation camps are wearing new looks with fans installed in the hostels. The quality of food cooked and served in camps is like never before. Corps members confess that they are served with Chicken and egg regularly in the camp.
"The DG is intensifying on his advocacy visits to the various state government without Permanent NYSC Orientation camp for them to build in their state with at least 5000 capacity. The advocacy visits is indeed yielding positive dividends with some states indicating their interest to build a state of the earth orientation camps" On my return i met some key officials who are not necessarily close to the Director General but who are nevertheless vast with the workings of their institution over the years and these persons confirmed the veracity of the above claims on the building of skills acquisition centres by the management so as to aid national integration which is at the heart of the NYSC.
Of all the people spoken to, Mr. Smart Odion perhaps volunteered what can be considered a very smart suggestions. He called on the hierarchy of the NYSC to open skeletal liaison offices in some first class embassies in Germany, France, United Kingdom, Canada, United States and Malaysia and staff each with at least two persons to coordinate the interfaces between higher institutions in those jurisdictions that produces the largest chunk of participants in the scheme. He is of the opinion that the mandate of these liaison offices should include the face to face verification of certificates tendered by these prospective participants in the NYSC scheme so as to cut down on costs and quicken the process of actual verifications of standards and validity of such qualifications amongst other salient mandate that should include mapping out strategies and necessary partner institutions that the director general and his very limited number of management staff would from time to time pay working visits to these institutions to familiarize with the standards and educational mechanisms in place in those institutions that are known to churn out greater percentage of would be participants in the NYSC scheme.
These working visits abroad should also be transparently used to scout for funding partner institutions that can assist the NYSC achieve the blueprints of evolutionary developments put in place to progressively reposition the NYSC to become increasingly self-funding in some critical areas so as to help government reduce funding abuse, he narrated.
The debate around the issues of national integration has resonated in the work done by ONIFADE, Comfort Adenike (Corresponding author) of the Department of Communication & General Studies, Federal University of Agriculture Abeokuta, Nigeria. Those spoken with in United kingdom informed me that the research I'm about to cite resonates with the lessons of integration as the core objective of their NYSC days in Nigeria vis a vis their ability to navigate the thorny issue of enjoying constructive interfaces with other Nigerians from diverse Ethno Religious affiliations also living in the UK.
The aforementioned authors wrote as following: "Since the inception of the Nigerian nation, Nigerian governments, past and present, have made serious efforts to propagate policies and programmes that are geared towards national integration".
Despite such well-intended and unity-oriented programmes and policies, Nigeria's unity has continued to be plagued and threatened by embedded socio-cultural, religious and political dichotomies, he noted.
According to these scholars who seems to have backed what those Nigerians living in the UK told this writer, unless efforts are made to checkmate these divisive tendencies towards national integration, the long expected and loudly proclaimed oneness and indivisibility of Nigeria will remain a utopia.
This paper, silhouetted against the backdrop of structural functionalism, advocates the necessity for national integration and the factors that are militating against the much desired national unity in Nigeria. These authors indeed took the exact words of those Nigerians spoken to by me out of their mouths and embellished their research literally.
In the study under analysis, the authors just like the resource persons spoken to in the UK gave suggestions on how Nigeria can achieve national integration.
"This paper believes that achieving national integration is contingent on jumping the hurdles of ethnicity, corruption, a narcissistic political leadership, weak institutions and others. It concludes that to claim the victory for an integrated Nigeria, the people must lead the vanguard of change and that for the continued existence of Nigeria to be guaranteed probably for another centennial, consensual agreement must be reached by its diverse ethnic nationalities."
Nation-building or national integration they stated has long been seen as an important focus for postcolonial African governments.
As some scholars noted, upon African decolonization in the 1950s and 1960s, social scientists were concerned about the need for what was then called "national integration" in societies with multiple ethnic, religious and racial cleavages (Binder, 1964; Coleman & Rosberg, 1966; Zolberg, 1967).
Quoting Bandyopadhyay & Green (2009)who argued that this concern has been more recently resurrected by Miguel (2004), Collier (2009) and others who have advocated for national integration as a policy to promote state building in a continent now notorious for and rife with political instability and economic throwback, these authors just like my interviewees restated their call for proper mainstreaming if national integration as a collective national ideology for all Nigerians both at home and in the DIASPORA communities.
They recalled that as Ifeanacho & Nwagwu (2009) observed, Nigeria's efforts at achieving national integration have remained largely unrealized.
In their words, the history of democratization in Africa, in general, and Nigeria, in particular, has remained the history of national disintegration. Thus, the integration crisis facing Nigeria is manifest in the minority question, religious fundamentalism and conflicts, ethnic politics, indigene-settler dialectic, resource control, youth restiveness and militancy and the clamour for a (sovereign) national conference or conversation about the terms of the nation's continued unification. My interviewees in the UK canvassed the acceptance of the NYSC scheme as a strategic component in our collective aspirations to create a harmonious and peaceful society because of the centrality of the thematic virtue of national integration.
The status quo they said has convulsed the productive sector, limited the impact of government's economic programmes on the people, threatened food insecurity, complexified social insecurity, deepened the deterioration of physical and social infrastructures, distressed the living standards of a vast majority of Nigerians, militated against the educational system and resulted in the ostracisation of the generality of Nigerians and their exclusion from the political and economic space, among other glitches. The entire social matrix in Nigeria is characterized by inter- and intra-community, inter and intra-ethnic, and interand intra-religious strife. Some of these conflicts are as old as the history of the Nigerian nation.
Like India, a federal state with its pluralized ethnic, religious and cultural status, these researchers reasoned that Nigeria is a deeply divided and plural society (Ojo, 2009).
Many scholars they recalled have tried to put a figure to the number of ethnic groups within the polity at well over 250 (Attah, 1987; Onwujeogwu (1987); Kirk-Green, 1969:4; Otite, 1990; Suberu, 1998). Ojo (2009) contends that "Nigeria has a unique problem not experienced by any state in the world past or present.
"The problem is that of achieving solidarity in action and purpose in the midst of hundreds of ethnic nationalities each exerting both centrifugal and centripetal forces on the central issue of the nation, bound in freedom, peace and unity where justice reigns."
They recalled that although the British colonialists and the Nigerian elite that succeeded them used ethnicity to perfect their political strategies and notch up some socio-economic and political gains, as Emelonye & Buergenthal (2011) observed, poverty and ineffective governance in Nigeria today have further sharpened ethnic divisions leading to misunderstanding between ethnic and religious groups who see themselves as rivals that must be surpassed by any means, thus hampering national integration. My interviewees then pointed to the kind of positive lessons of integration passed on to them during the NYSC scheme as a key factor to resolving these fundamental challenges of nation building process alluded to by the aforementioned University researchers who work we are relying on to lay the solid framework to the issues that played up throughout the interview sessions i conducted in the United Kingdom on the proper place of NYSC lessons of national integration on their relationships with other fellow citizens.
The authors add that because the Nigerian state is beginning to lose legitimacy and authority, the fear of uncertainty has increased to the extent that citizens now resort to self-help, seeking security and solidarity in their own ethnic, religious or regional affiliation and identity.
According to them, a new dimension to Nigeria's ethno-religious violence is the increasing recruitment and mobilization of ethnic and regional militias, vigilantes and other armed groups: the Oodua People's Congress in Yorubaland, the Arewa People's Congress in the north, the Bakassi Boys in the east, the Egbesu in the south, and the emergence of a supercilious army of terror merchants who represent contending interests to Nigeria's detriment.
"The implication of these hydra-headed conflicts is that national integration suffers, there is increasing insecurity of citizens and property in the country, foreign investment is deterred and economic development is stymied".
This issue of national integration in Nigeria, they repeat, highlights programmes aimed at achieving it and examines innate challenges that frustrate the process of integration in the country.
In a pragmatic sense, NYSC has a central role in shaping the depth of national integration as a collective ideology for all. As i was putting pen to paper, one of Nigeria's most celebrated musicians known with the stage name of DAVIDO was captured in the media registering to participate in this ongoing NYSC scheme even as a thought flashed through my subconscious to task the management of NYSC to work out ways of using this flambouyant but successful young Nigerian talented singer to unveil a project to be centred around devoting some of his service periods to preach national integration to fundamentally and most profoundly bring into practical fruition the essence of the core objective of the National youth Service scheme. This opportunity must never be missed. This is because of Davido's global reach as a popular brand in the World.
Emmanuel Onwubiko heads the Human Rights Writers Association of Nigeria (HURIWA) and has just returned from the United Kingdom. He can be reached on www.huriwanigeria.com .
Disclaimer:

"The views/contents expressed in this article are the sole responsibility of the author(s) and do not necessarily reflect those of The Nigerian Voice. The Nigerian Voice will not be responsible or liable for any inaccurate or incorrect statements contained in this article."