COAS press confab in Abuja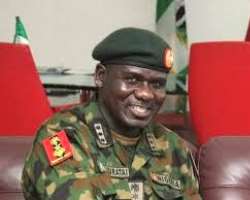 Media Executive Interaction With The Chief Of Army Staff Lt Gen Ty Buratai On Nigerian Army's Non-Kinetic Efforts At Combating Boko Haram Terrorists Negative Narratives To Held At Ahq Conference Room On Thursday 30 August 2018
Protocol
1. I am most delighted to welcome you, distinguished members of the Fourth Estate of the Realm to this media interactive session which is aimed at enlightening the general public on the Nigerian Army's non-kinetic efforts at combating insurgency. One of such effort is promoting community stabilization as a means of combating the negative ideology of the Boko Haram Terrorists. This session is therefore to inform you thereby transparently fulfilling the Nigerian Army's resolve to carry every Nigerian along in our operational activities.
2. It is common knowledge that the Nigerian Army along with other security agencies is currently involved in the fight against insurgency and other forms of criminality across the nation. This has resulted in the conduct of several military operations by the Nigerian Army, notably which is OP LAFIYA DOLE in the North East. These operations conducted by the Nigerian Army have yielded the desired results, particularly in the North East where Boko Haram Terrorists have been substantially degraded, thereby rendering their ability to conduct coordinated attacks impossible. This has further created the enabling environment for the conduct of Operation LAST HOLD which is aimed at a dignified return of refugees and internally displaced persons back to their ancestral homes.
3. Ladies and Gentlemen, members of the Press, the Nigerian Army is not unaware of the many security challenges that have bedeviled this country in the last decade or so. However I am pleased to state that giant strides have been made in this regard. Our security architecture as a country is one with a very positive outlook. We are now consolidating on the gains achieved in the fight against insurgency in the North East as part of the stabilization phase of our operations where all efforts are geared towards ensuring that displaced persons are fully returned to their ancestral homes which are now relatively safe.
4. In view of the aforementioned, I have directed that another sustained campaign focused on community stabilization be conducted to counter the negative narrative and ideology of the Boko Haram Terrorists. This is necessitated by the power which is inherent in a community when members of the community team up to achieve a desired objective. We have discovered the power that is embedded in large communities when they collectively team up to achieve a desired goal or objective.
5. Community Stabilization as you are all aware is a measure of the sustained ability of a community to utilize available resources to respond to, withstand and recover from adverse situations. It is also a means where communities stand up as a collective entity to resist whatever is deemed alien to their beliefs, culture, tradition and way of life. The insurgents have used fear and extremely negative religious fundamentalism as a justification for the deployment of women and children as suicide bombers, setting ablaze Churches and Mosques while engaging in indiscriminate killings of innocent people.
6. Community Stabilization lies in the ability of every community to say, "No more will we allow this to happen to us again", "No more will we support and protect those who seek to destroy us and our future", "No more will we succumb to the cheap threats of these insurgents". The resistance by the community will create an internal system that will complement the efforts of the Nigerian Army and ensure that these insurgents are ideologically defeated completely.
7. We have witnessed the increased determination of the people of the North East to resist and unite against the terrorists, following their relocation back to their ancestral homes. It is obvious that the people of the North East are developing a collective resilience which only needs to be encouraged and supported. This is a positive response against the initial imposition of a strange ideology by the terrorists. The Nigerian Army intends to build on this.
8. The Nigerian Army is a key facilitator of Civil-Military Cooperation especially at this stabilization phase of our war against terrorism. This process is a government driven initiative. Therefore the Nigerian Army will collaborate with government Ministries, Departments and Agencies (MDAs), security agencies, humanitarian actors, civil society organizations and other stakeholders in this regard. The Nigerian Army will continue to create an enabling environment for this process.
9. Furthermore, the Nigerian Army will be involved in the facilitation of food security, economic development, health care, provision of farm inputs and farm implements, protection and rehabilitation of critical and social infrastructure, enhancing coping capabilities to internal and external shock, using community centered approach that will strengthen social cohesion, access to livelihood and economic recovery process. All these are part of the absorptive, adaptive, transformative capacities and other wellbeing outcomes to enhance community resilience as a measure of countering the negative ideology of the insurgents.
10. The Department of Civil Military Affairs, Directorate of Army Public Relations, the Nigerian Army Engineers, the Nigerian Army Intelligence Corps, Nigerian Army Education Corps, Nigerian Army Medical Corps and the Nigerian Army Chaplaincy and Islamic Affairs are therefore to immediately articulate a Campaign Plan to this effect. This Campaign Plan for countering the negative narrative and ideology of the insurgents using community resilience is part of the Nigerian Army's non-kinetic approach to the fight against insurgency in the North East. Therefore I want to solicit the support of the media, all other stakeholders and well meaning Nigerians at this crucial stage of our fight against insurgency.
11. I also want to use this medium to also call on our religious and traditional institutions to play a key part in this campaign. The Nigerian Army will thus create security awareness to enlighten and educate communities through their leaders. To this end, I encourage religious, traditional and community leaders to propagate the power of communal living, social coherence and resilience as a means of defeating the insurgents in their messages, sermons and every available avenue until we achieve the desired objective.
12. Gentlemen of the press, the Nigerian Army is continuously making sacrifices towards ensuring the unity and development of this great nation. We therefore call on every well meaning Nigerian to join hands with the Nigerian Army to collectively build and take this nation forward. I therefore urge us all to desist from acts that are capable of truncating the progress so far achieved, particularly as it affects security. Let us be patient with the security agencies and support them. I assure you all that the Nigerian Army is your Army which will continue to work for the common good of the nation while professionally carrying out its constitutional roles.
13. On this note, let me express my sincere gratitude to the media for their wonderful support to the Nigerian Army at all times. I urge you not to relent in your efforts of supporting us and propagating the good work which we do. Finally, I thank you for your continued support of our efforts in the pursuit of peace, security and progress of our dear country, Nigeria.
14. Finally, I will like to use the opportunity of this unique media executive interaction to reaffirm the unalloyed loyalty of my officers and soldiers to the President and Commander in Chief of the Armed Forces of the Federal Republic of Nigeria. We as an Army will continue to remain disciplined and professional in our conduct and in the discharge of our constitutional roles.
15. Thank you for your attention.