DR. GODWIN MADUKA: An Uncommon Philanthropist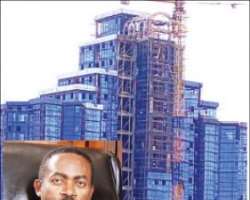 I HAVE NEVER SEEN A PHILANTHROPIST LIKE THIS MAN. Since I was born and in all the history books I have read, I have never seen any philanthropist as good as this Igbo Man.*
Umuchukwu in Orumba south Local Government Area of Anambra State, formerly known as Nkerefi was hitherto known as one of the backward and remote communities in the state, as it was totally bereft of any meaningful government attention, even to the extent that about 90 percent of Anambra Stare people had never heard about the community.
Because of the growing poverty and absence of opportunities, the community was high in criminality, which climaxed with the kidnap of the community's traditional ruler, Igwe Michael Ukaegbu.
But all these negative attributes were changed by one of their illustrious sons, DR. GODWIN MADUKA, a United States of America (USA) based medical practitioner, who through his foundation he set up about 17 years ago, brought projects to the community.
DR. GODWIN MADUKA
When DR. GODWIN MADUKA's foundation visited the then Governor Peter Obi at Government House Awka, with the pathetic story of the deplorable state of their roads in Umuchukwu, they had elected to bear 50 percent cost of the construction of the roads.
This moved the then Governor Peter Obi who visited the community himself and was overwhelmed by what he saw, and then promised that the Anambra State Government would take over the responsibility of those roads.
The former Governor of the State, Mr. Peter Obi, had to construct two roads connecting Umuchukwu and other neighbouring communities.
DR. GODWIN MADUKA built:
1) 💪💪two churches, one each for the Anglicans and Catholics.
(2) 💪💪built Trinity Hospital and Maternity.
(3) 💪💪over 100 standard houses for widows and the poor in the area.
(4) 💪💪Built Immaculate Conception International College 1 and 2 , with buses donated to them.
(5) 💪💪he built a police station for security.
(6) 💪💪he built a magistrate court.
(7) 💪💪a standard market called (Afor Market), .
(8) 💪💪built barracks for the Civil Defense staff,
(9) 💪💪built two monasteries for churches.
(10) 💪💪built community centre (Community Hall and his own Village Hall).
(11) 💪💪built, post office.
(12) 💪💪built a state high court.
(13) 💪💪provided transformers to boost electricity in the community.
(14) 💪💪built mighty edifices for primary and secondary schools.
(15) 💪💪built a palace for the monarch, civic centre,.
(16) 💪💪built houses for clerics of Catholic and Anglican churches, among others.
(17) 💪💪built Five star hotel known as Lion of Africa resort.
(18) 💪💪the 15 storey tall building is part of the World class International standard Hospital / Health research institute (which will serve as the destination of all health matters in Africa, since it will be the biggest and the best of it kind in African soil).
This will should serve as shame to the Federal Government and State Governments.
And a shame to those Billionaires who buy private jets and allow their people to come beg them two spoonfuls of rice ... remember, DR. GODWIN MADUKA is not the richest man in Africa, but he is the richest in Heart.
An overly excited native was quick to state:
"Today, there is no more thatched house in the community. DR. GODWIN MADUKA has replaced every thatched house in the area with three or four bedroom bungalows."
About 100 of such buildings were rebuilt. They belong to the indigent natives, especially widows. All such buildings carry green roofing aluminium zincs for easy identification.
To help fortify security in Umuchukwu, DR. GODWIN MADUKA built four two-storey buildings for police stations, complemented it with a bungalow as officers' mess, and another structure to serve as operational base for the men of the Special Anti-Robbery Squad (SARS) which he donated to the Nigeria Police.
Dr. GODWIN MADUKA also built headquarters for the Nigeria Security and Civil Defence Corps (NSCDC).
DR. GODWIN MADUKA has also sponsored hundreds of students from his community, and has also helped to get them jobs.
DR. GODWIN MADUKA built Vocational center for those who want to learn handiwork.
DR. GODWIN MADUKA vowed to make his community look good, like Las Vegas in USA, before he will finally come home to settle.
My prayer is that Igbo people ... people of SouthEast, SouthSouth, MiddleBelt, SouthWest, NorthEast, NorthWest should learn from this man and go back to invest at their villages and/or communities.
Let everyone make his village and/or community his own Las Vegas. With this every village, every community, and all communities across Nigeria will be developed ... just like what we have in the western/developed countries.
Every Anambra State citizen, every igbo citizen, every citizen of SouthEast, SouthSouth, MiddleBelt, SouthWest, NorthEast, NorthWest, should emulate this great philanthropist and help build their own villages and/or communities as service to God and humanity
If you are rich, prove it by the number of the community projects you have built successfully for your village and/or community in Anambra state, in the SouthEast, SouthSouth, MiddleBelt, SouthWest, NorthEast, NorthWest ... in addition, show the number of people you have trained through formal education or skill acquisition.
If you are rich and you cannot show community project(s) you have successfully completed and given to your village and/or community, and you cannot show the people you positively changed their lives in your village and/or community ... kindly hide in shame, and never say loud to anyone that you are a citizen of the village or citizen of the community. You should be ashamed of yourself.
IT IS NOT YET LATE OOO !!!!!!*
Now, rise and join the number of philanthropist to build your village and/or community.
Let us stop hoping on government.
His name is DR. GODWIN MADUKA, MD/CEO Las Vegas Health Institute, USA ... Our philanthropist of the decade.