Akpabio, Police differ over gun attack at senator's home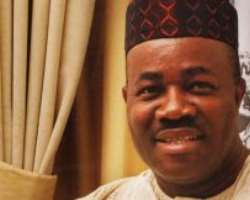 The Police and All Progressives Congress (APC) leader in Akwa Ibom State Senator Godswill Akpabio yesterday disagreed over an alleged gunmen attack on the ex-governor's residence.
On Tuesday night, the Senator said his hometown residence in Ukana, Essien Udim local government area, was attacked by 10 gunmen during a political meeting with his supporters.
But the Police said hoodlums attacked a filling station near the senator's house and not his residence.
Senator Akpabio's "uncommon defection" to the APC has heightened political tempo in the state.
Akpabio's media aide Anietie Ekong in a statement said: "Attempts by unknown gunmen to attack the Ukana, Essien Udim Local Government Area residence of the Senator representing Akwa Ibom North West Senatorial District, Senator Godswill Akpabio have been repelled by gallant policemen attached to the former Senate Minority Leader".
Ekong said the Senator was holding political meetings on Tuesday night at his country home when 10 gunmen stormed his residence and shot sporadically causing stampede.
He said the shooting brought the meeting to a temporary halt as attendees scampered for safety.
He added that retired Deputy Inspector General of Police Udom Ekpoudom who was at the meeting made frantic calls for security beef up.
Ekong explained that the security men attached to Akpabio's residence after recovering from the initial shock, responded gallantly with superior fire power which forced a retreat from "the invading attackers."
But Commissioner of Police Adeyemi Ogunyemilusi, denied that gunmen attacked Akpabio's residence.
The CP said "the marathon meeting" lasted till the early hours of Wednesday amid tight security. He admitted that there was a gun scare about 200 metres from Akpabio's residence.
The polce chief said "six hoodlums on two motorcycles invaded a feeling station near Akpabio's house and robbed the pump attendants of the day's sales and the customers.
"It was just a mere coincidence that the incident happened at about 7:30pm on Tuesday, August 21, when the meeting was ongoing at His Excellency's residence.
"Immediately the hoodlums attacked the filling station, somebody at the meeting called me. The Area Commander and other policemen were drafted to the scene and within minutes, security was restored.
"You know how Ikot Ekpene is with these hoodlums on motorcycles. So it is just a flash incident of petty thieves robbing a filling station near the residence of His Excellency.
"Even our quick response was applauded by His Excellency when he came out of the meeting to see our men heavily on guard around the area, so nobody should overheat the polity because of politics", the CP warned.
Credit: The Nation