Finally, Oyo State govt demolishes Yinka Ayefele's Music Hous
(Photos) Demolition Sparks Outrage
The Oyo State government has made good its threat of destroying Ayefele's Music House, early hours of Sunday.
The state government has issued a demolition notice, which the legendary musician and broadcaster has responded to, but the government went in the middle of the night to carry out the demolition exercise leaving a pitiable sight.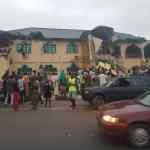 It's noteworthy to mention that Yinka Ayefele's radio station, Fresh FM, which is just little over two years, has risen to become one of the most listened to in the state and has featured a lot of political guests including the governor, Abiola Ajimobi.